The Fringe Main Lottery
Update on Fringe 2021 Applications and COVID-19
---
The Toronto Fringe is a non-juried festival, and holds a lottery to program the festival by selecting shows at random in a draw. This draw takes place in late autumn. In line with all other Fringe Festivals in Canada, The Toronto Fringe does not evaluate the artistic merit of applicants, or the viability of the work – all applicants have the same chance of earning a show slot as the rest of their category. The Toronto Fringe offers multiple Main Lottery categories to apply to, based on the permanent residence of the applicant and duration of show, age demographic of audience, or targeted performance genre. (More info below.)
WHY DO WE PROGRAM THE FESTIVAL VIA LOTTERY?
Because we, along with all other Canadian Fringe Festivals, believe that every voice has an equal right to be heard. It's not about who you know or how much you know. Your project holds just as much weight in the Fringe Lottery as anyone else's. The power of the Fringe Movement is that there are no gatekeepers. It's a platform for everyone to learn about and experiment with the arts.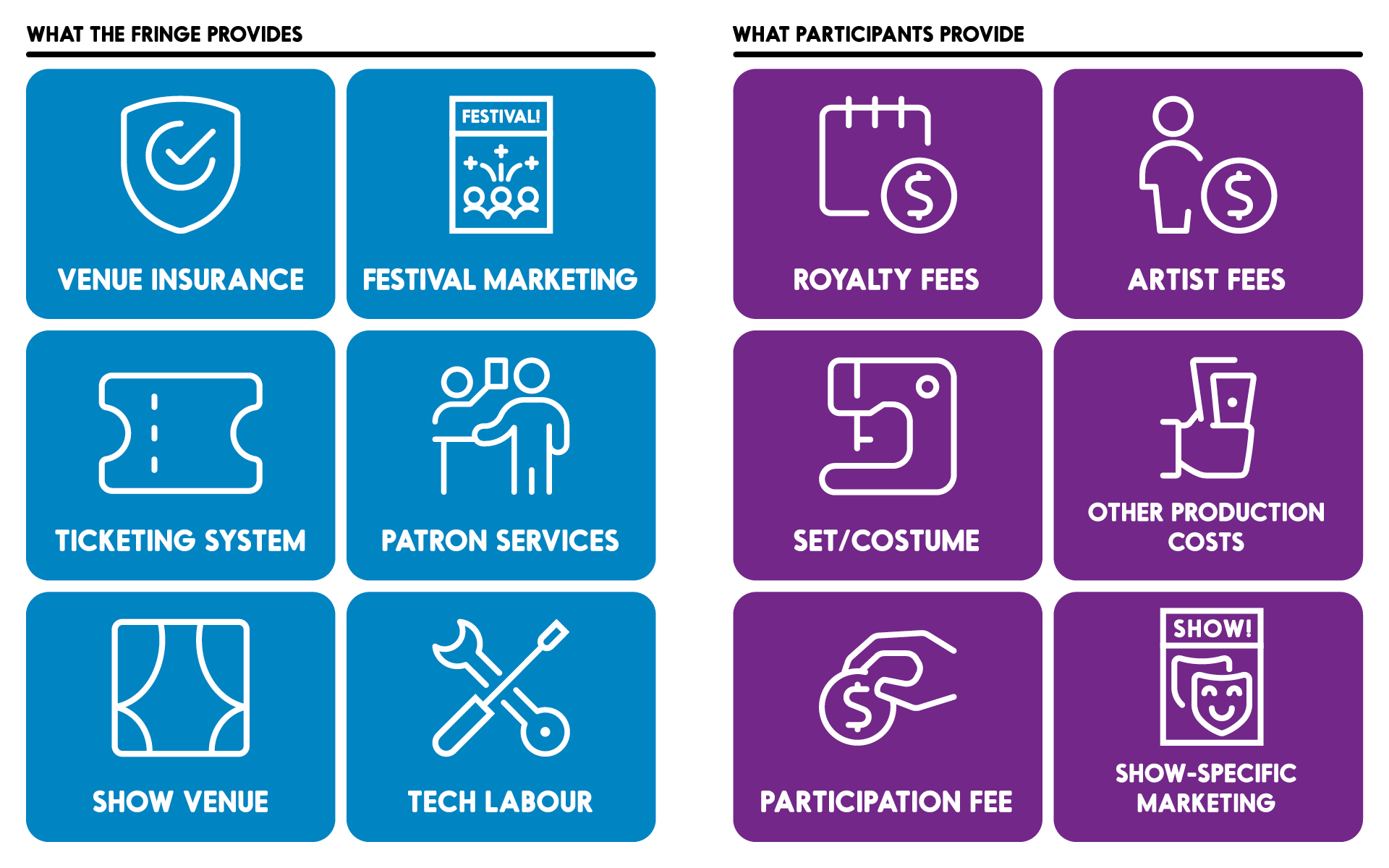 If you are drawn in the Lottery, you enter into a shared producing model with the Fringe.
What Fringe Provides
Show Venue
Tech Labour
Ticketing System
Patron Services
Venue Insurance
Festival Marketing
What Participants Provide
Artist Fees
Royalty Fees
Set/Costume
Other Production Costs
Show-specific Marketing
Participation Fee
Step One: Select Your Category
Read over the details of each Main Lottery Category by browsing the tiles below.
If you are an artist who identifies as culturally diverse you might want to check out our Culturally Diverse Artist Project (CDAP) Lottery. If you are an artist who identifies as a person with a disability, you might want to check out our Accessible Lottery.