Calls for Artists: Fringe
The Fringe Lottery
The 35th Toronto Fringe Festival will be July 5 to July 16, 2023. Lottery Applications will open November 1, 2022 - stay tuned to our newsletter and social media for updates soon. 
---
WHY DO WE PROGRAM THE FESTIVAL VIA LOTTERY?
Because we, along with all other Canadian Fringe Festivals, believe that every voice has an equal right to be heard. It's not about who you know or how much you know. Your project holds just as much weight in the Fringe Lottery as anyone else's. The power of the Fringe Movement is that there are no gatekeepers. It's a platform for everyone to learn about and experiment with the arts.
Why Produce Your Show at Fringe?
Fringe covers part of the cost of producing a show, which can otherwise be $10,000+ if self-producing. Together, we can help lower the costs for everyone involved.
A participant pays approximately $760 for their slot in the mainstage Fringe Festival (Site-Specific fees vary). For this fee, you receive a performance venue with technical staff*, box office staff, front of house staff; also ticket sales service, venue insurance, and a share of our festival marketing. Participants are expected to cover artist fees, royalty fees, set/costume costs, show-specific marketing, and other production costs. 
*Venue and tech labour are not included for the Site-Specific Category.
It's Better Together
This shared producing model allows your dollar to stretch further, because we are pooling our resources and working together. As always, you take home 100% of the ticket revenue and Fringe takes a small surcharge on each ticket.
When you produce a show at Fringe, you're joining a community – this isn't simply a co-production agreement. Being part of the Fringe community means access to a step-by-step Producing 101 pathway, greater reach for your show due to our province-wide marketing campaigns, and hands-on support from our fabulous team.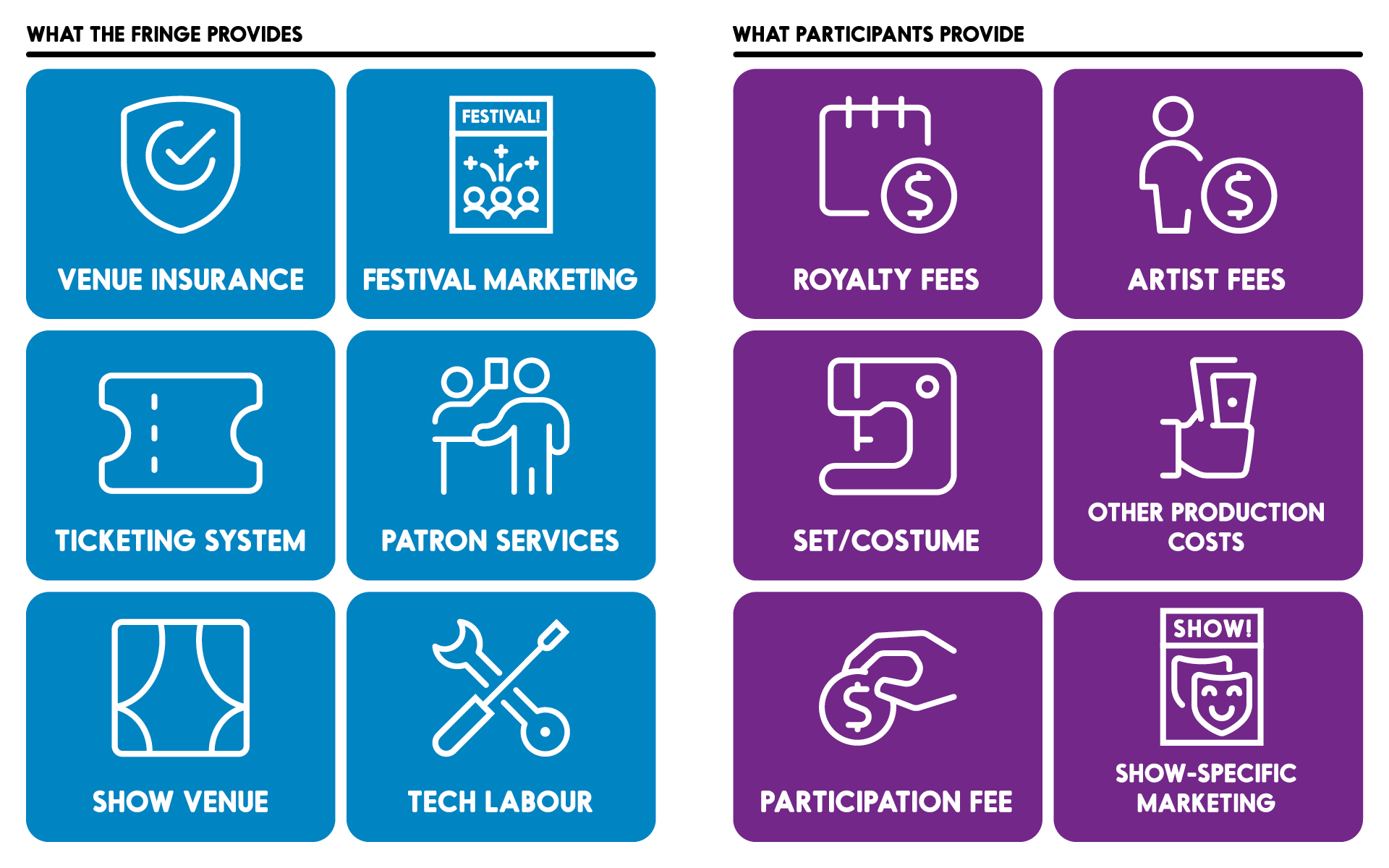 If you are drawn in the Lottery, you enter into a shared producing model with the Fringe.
WHAT FRINGE PROVIDES
Show Venue
Tech Labour
Ticketing System
Patron Services
Venue Insurance
Festival Marketing
WHAT PARTICIPANTS PROVIDE
Artist Fees
Royalty Fees
Set/Costume
Other Production Costs
Show-specific Marketing
Participation Fee
Key Dates in a Typical Festival Year
Early October: Application information released
Mid-October: Fringe Festival Lottery & Site-Specific Category applications open
Early November: Applications for the Fringe Festival Lottery close. (Site-Specific applications are first-come, first-served)
Early December: The Fringe Festival Lottery Party
First 2 weeks of July: The Toronto Fringe Festival