Calls for Artists: Fringe
applications to the 2024 Toronto Fringe Festival will open in fall 2023
The 2024 Toronto Fringe Festival will take place July 3-14, 2024. Check back to this page for information on how to apply to the 2024 Festival.
---
Fringe 2023 Application Information
See below for the 2023 Toronto Fringe Festival application information. Please note, the process and timelines to apply for the 2024 Fringe will be similar but not exactly the same. This page updated with finalized information when applications open later on in Fall 2023. 
Main Venue Category
The majority of the festival is in Main Venue slots, which are selected by a randomly drawn lottery. There are several different categories and venue sizes to select from during the lottery application process. 
The main lottery is for artists who are planning on producing their shows in a conventional theatre space. The Festival provides the performance venues for this category, and schedules each company up to 7 performances (in small venues and for KidsFest, up to 8 performances)
The Festival provides the performance venues for this category, and schedules each company up to 7 performances (in small venues and for KidsFest and Teen slots, up to 8 performances)
Applications to the Main Venue lottery close on December 8, 2022, 11:59PM ET
For the full details and to apply to the Main Venue Lottery, click here.
---
Unconventional Venue Category
Apply with a proposal for a non-conventional performance venue in the Unconventional Venue Category, which is programmed on a first-come, first-served basis.
There are limited slots in this category, and two streams available to choose from: Physical Venues and Non-Physical Venues.
Participants apply with a venue, the Festival does not intervene in any rental agreement. The venue cannot be a conventional theatre.
Applications must demonstrate that the work cannot be produced in a conventional, traditional theatre, but are uniquely tied to the space and/or presentation format.
Submitted applications will be placed in the queue only if they are complete. 
Applications to the Unconventional Venue Category are open now until all spots are filled.
The pre-approval process is now closed. 
For the full details for the Unconventional Venue Category, click here.
---
HOW TO APPLY TO THE LOTTERY
If you're a seasoned Fringer and are ready to jump right into applying, here are the instructions:
Applications must be submitted through Eventotron, the festival management portal. There is a $10 CAD fee to apply to the lottery. If you require an alternative method or support in submitting your application, contact Associate Producer Suzanne Wilkie at suzanne@fringetoronto.com or by phone at 416-966-1062 ext 228.
In a web browser, go to eventotron.com
If you have not previously applied to a Toronto Fringe festival, you will need to SIGN-UP for a new account. The email you use to create an account is what we will use to contact you with any information about your application.
Search for 2023 Toronto Fringe Festival in the Festivals & Seasons
Click APPLY.
Select "I'm creating a new event" and enter an event title. Click NEXT.
Your Event title is the title of your show. It can change later in the process if you are accepted into the Festival. Please note "TBD", "TBC", "Untitled" will not be accepted as an Event title. The application must be completely filled out before submitting.
NOTE: Your form should autosave as you fill it out. To be sure information is not lost, click out of the field you have edited and look for a blue SAVING icon turn to green and say SAVED in the top right corner. You can start filling out your application and submit it at a later time. When you click APPLY, select "My event is already in Eventotron" instead of a new one, and select your existing application from the drop down menu. 
---
Why Produce Your Show at Fringe?
Fringe covers part of the cost of producing a show, which can otherwise be $10,000+ if self-producing. Together, we can help lower the costs for everyone involved.
A participant pays approximately $760 for their slot in the mainstage Fringe Festival (Site-Specific fees vary). For this fee, you receive a performance venue with technical staff*, box office staff, front of house staff; also ticket sales service, venue insurance, and a share of our festival marketing. Participants are expected to cover artist fees, royalty fees, set/costume costs, show-specific marketing, and other production costs. 
It's Better Together
This shared producing model allows your dollar to stretch further, because we are pooling our resources and working together. As always, you take home 100% of the ticket revenue and Fringe takes a small surcharge on each ticket.
When you produce a show at Fringe, you're joining a community – this isn't simply a co-production agreement. Being part of the Fringe community means access to a step-by-step Producing 101 pathway, greater reach for your show due to our province-wide marketing campaigns, and hands-on support from our fabulous team.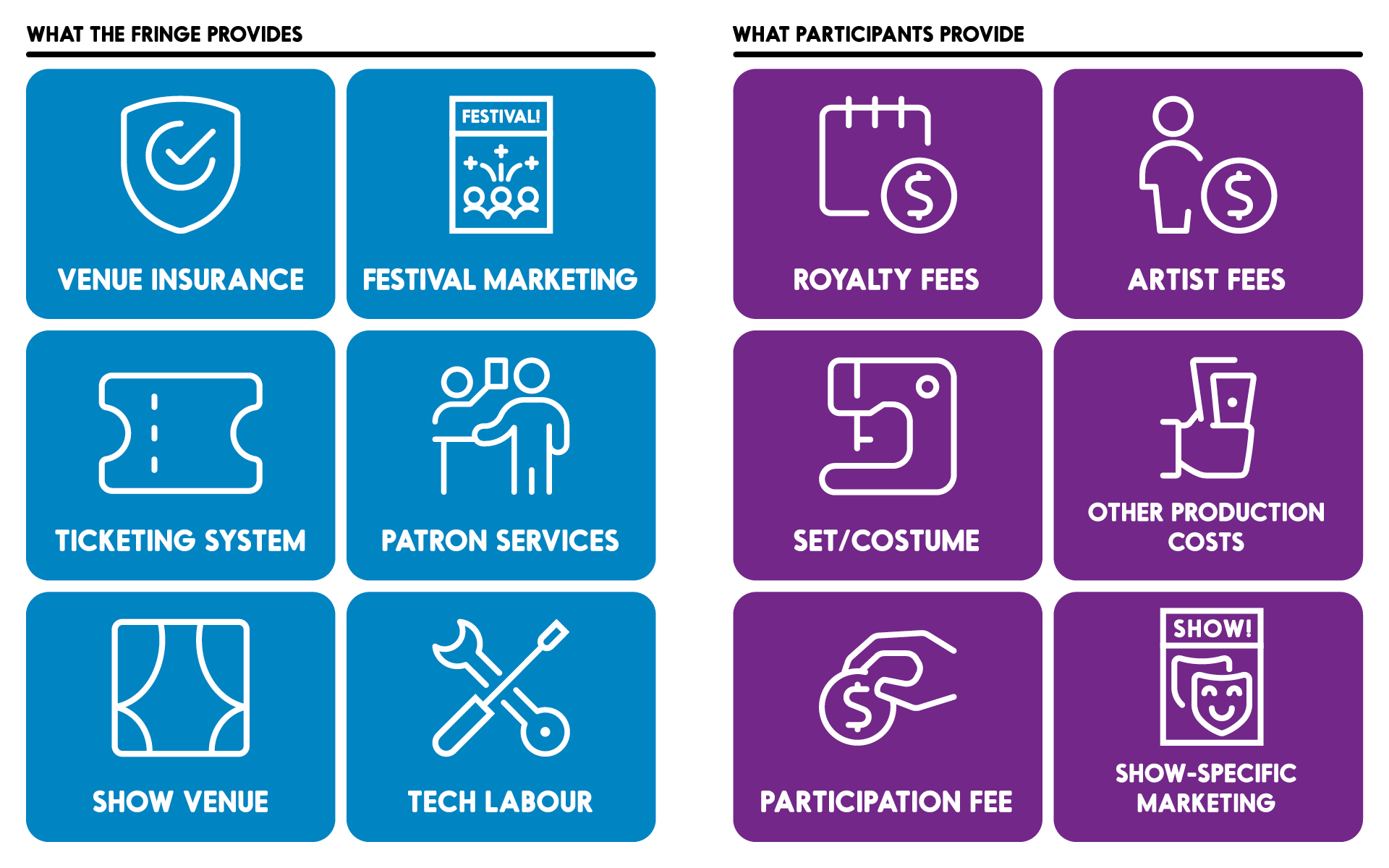 If you are drawn in the Lottery, you enter into a shared producing model with the Fringe.
WHAT FRINGE PROVIDES
Show Venue
Tech Labour
Ticketing System
Patron Services
Venue Insurance
Festival Marketing
WHAT PARTICIPANTS PROVIDE
Artist Fees
Royalty Fees
Set/Costume
Other Production Costs
Show-specific Marketing
Participation Fee