TENT
TENT = Theatre Entrepreneurs' Network & Training
Applications now open! The 2020 TENT Program will continue as scheduled from July 1-12.
Applications close Friday, April 17, 2020.
TENT (Theatre Entrepreneurs' Network and Training) was created in 2014 by The Toronto Fringe Festival to address a growing need in theatre training. The theatre climate demands that artists possess the skills and contacts to self-produce if they wish to build a sustainable career, but no training programs existed to address this specific need for emerging artists.
Since its inception, TENT has served over 140 emerging artists: providing free intensive training in the skills vital to making their work a reality (such as managing budgets, marketing, fundraising, grant-writing), and connected them with some of Canada's leading "Artrepreneurs."
TENT invests in the future of arts and culture in Toronto by creating, training, and cultivating a community of "artrepreneurs." We equip emerging artists with the skills and human connections to empower them to create meaningful art on their own terms.
We do this by offering the following over a 12-day intensive program:
Workshops > Develop the necessary skills to pursue your career in professional theatre through an exciting and diverse series of workshops in areas such as promotion & publicity, grant writing, well-being, and more.

Guest Advisers > TENT workshops are led by guest advisors who are respected working artists, producers and managers. The program provides an excellent opportunity to connect with the professional artistic community.

Free Shows > See 2020 Toronto Fringe Festival programming at no cost with a TENT Rush Pass. Please note: if Fringe 2020 must be cancelled or postponed due to the COVID-19 epidemic, this part of the program will be on hold.

Bursaries > A limited number of small bursaries will be available for participants, with focus on those from priority neighbourhoods.
Selected past TENT Mentors & Guests have included:
Brendan Healy (Artistic Director – Canadian Stage)
Mel Hague (Associate Artistic Director – Canadian Stage)
Owais Lightwala (Managing Director – Why Not Theatre)
Ravi Jain (Artistic & General Director – Why Not Theatre)
Tanisha Taitt (AD Cahoots Theatre and previous TENT Program Director)
Nina Lee Aquino (Artistic Director – Factory Theatre)
Luke Reece (Producer – Obsidian Theatre Company)
Glenn Sumi (Theatre Critic – Now Magazine)
Marjorie Chan (Artistic Director – Theatre Passe Murraille)
Donna-Michelle St. Bernard (Playwright, Program Director)
Weyni Mengesha (Artistic Director – Soulpepper Theatre)
Carly Maga (Theatre Critic – The Toronto Star)
Tom Arthur Davis (Why Not Theatre and previous TENT Program Director)
WHO CAN APPLY, AND HOW?
    Emerging theatre professionals aged 18-35 years old.
    Must be available beginning July 1st, 2020 and for the duration of the program (July 1-12, 2020).
To apply, please click here. Please submit a PDF resume, as well as either a PDF letter, maximum 2 pages, or record a video of yourself for maximum 5 minutes addressing the following questions:
What has led you to apply to TENT?
What do you hope to get out of your experience?
In terms of live performance, what are you interested in, curious or excited about right now? (There is no right answer here, we just want to get to know you!)
Applications close Friday, April 17, 2020.
We are committed to making the application process barrier-free, please contact Program Director Carly Chamberlain at tent@fringetoronto.com should you need to discuss the process or have any further questions.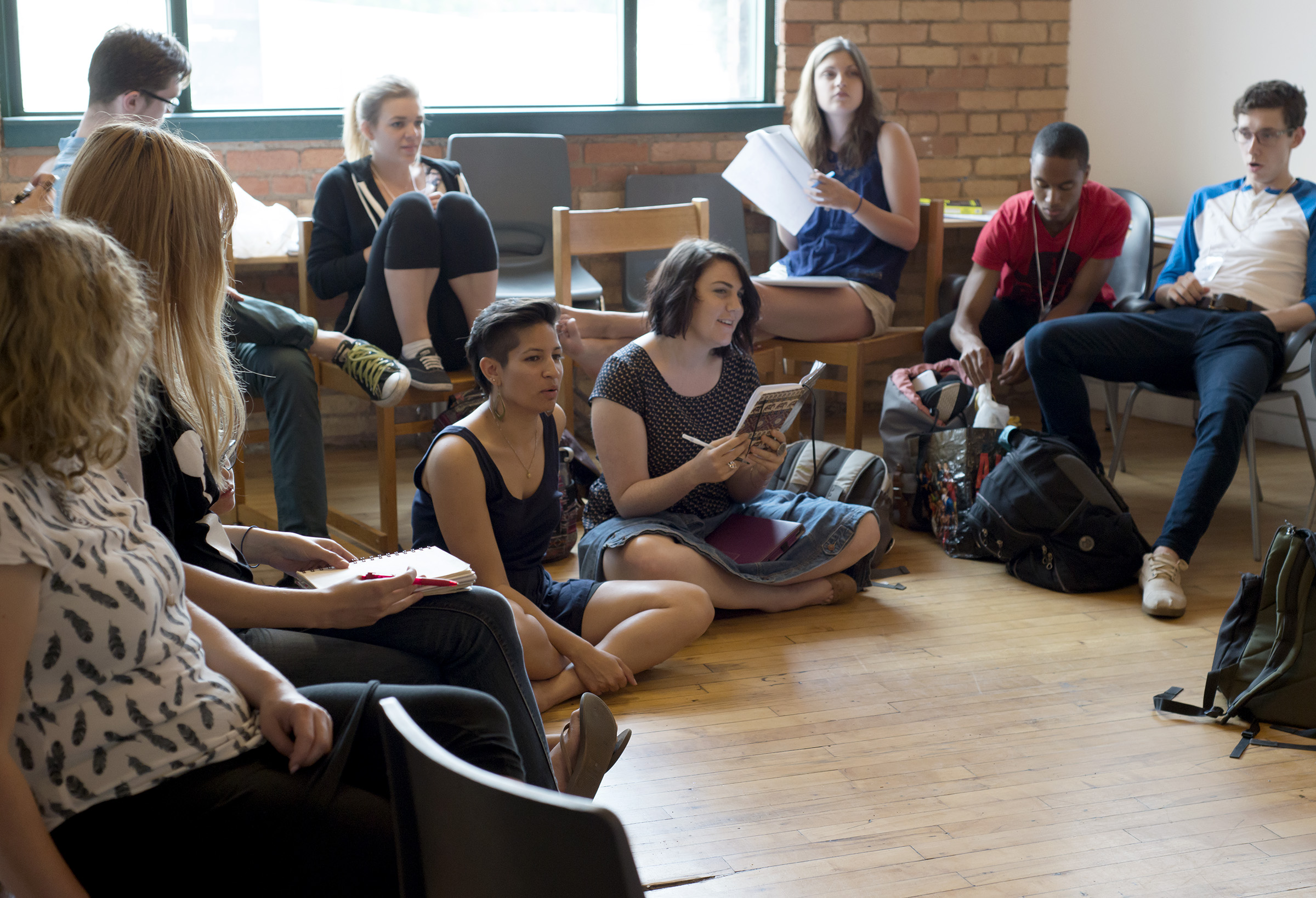 TENT gave me access to the hardworking people making theatre in Canada, and it taught me how I can be one of them.

2015 TENT Participant