My First Fringe
WHAT IS MY FIRST FRINGE?
My First Fringe is a FREE theatre production and creation workshop series for young theatre makers age 15-18. In this program, participants will take part in a series of workshops led by established artists, geared towards equipping participants with the skills needed to successfully create and produce a fringe show.  This program will take place in person downtown Toronto and is open to residents of Ontario. 
This year we have space for up to 10 participants in the My First Fringe program. 
THE 2023 MY FIRST FRINGE PROGRAM INCLUDES:
6 days of workshops led by industry professionals in creation, producing, directing and more from Monday March 13th to Saturday March 18th 
The opportunity to collaborate with a group of likeminded individuals to co-create a performance piece to present at the end of the program 
A final presentation for parents/facilitators on March 18th  
PROGRAM DATES
March 13th-16th: 9:30 AM–4:30 PM 
March 17th: 9:30 AM-4:00 PM
March 18th: 12:00 PM-3:00 PM** 
**March 18th will be the performance day, with exact time of performance to be determined.
APPLICATION PROCESS
Please fill out this application form. 
https://fringetoronto.wufoo.com/forms/me12bdg04t2gdz/ 
Applications OPEN January 13th, 2023. 
Applications will CLOSE January 31st, 2023.
Once your form is completed, it will be reviewed by the Fringe team.  We will be assessing applications based on creative interests, how this program could benefit you/if you've had much access to other training programs and the overall group dynamic. All levels of experience are welcome. Even if you are brand new, we encourage you to apply!  
All applicants will be contacted via email no later than February 17th, 2023 regardless of success of application. 
If you have any questions, or require any accessibility accommodations in order to submit your application, please contact Lucy Mcphee at lucy.mcphee@fringetoronto.com.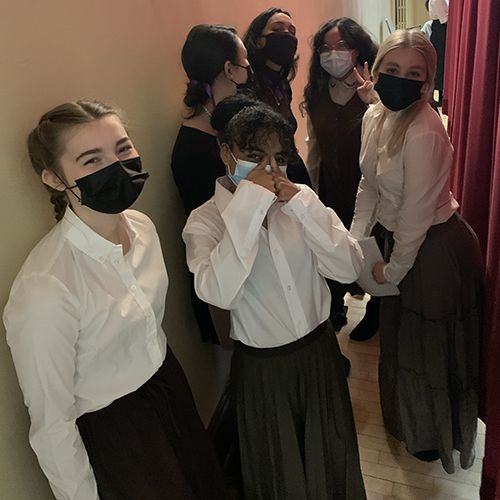 2022 My First Fringers waiting backstage to present their week's work.