Equity, Diversity, and Inclusion Audit
about the audit
In the fall of 2020, Fringe began an Equity, Diversity, and Inclusion audit with Sedina Fiati and Candice Frederick (Where You Are Consulting).
The Equity, Diversity, and Inclusion Audit for the Toronto Fringe has resulted in a series of recommendations, which will be incorporated into the operating plan for the Fringe. The audit and action items will ensure the Fringe is better equipped to address issues of racism and oppression. As Fringe's current strategic plan (2019-2021) is about to expire, it is an ideal moment to infuse EDI principles into all aspects of the Fringe's operations.
---
summary published - June 2021
In June 2021, Toronto Fringe published an EDI Audit Summary, which you can read here.
Three Key Audit Recommendations:
Orient to Social Justice/Culturally Responsive Programming
Build Capacity & Resources
Understandable, Transparent, Accessible, Manageable Processes
If you have any comments or feedback you would like to share with the Fringe after reading this summary document please do not hesitate to contact Executive Director, Lucy Eveleigh (lucy@fringetoronto.com) or the Board Chair, Jason Murray (board@fringetoronto.com).
---
audit submitted - May 2021
In May 2021 the full 40+ page EDI Audit was submitted to the Toronto Fringe staff and board. It details recommendations for how Toronto Fringe can take actionable steps towards creating more space to showcase the lived realities of Black, Indigenous, and racialized staff, artists, and community members.
The full report was read by all Toronto Fringe staff and board. The Toronto Fringe team is currently creating an action/work plan to assign timelines and priorities to the findings in the Audit. 
---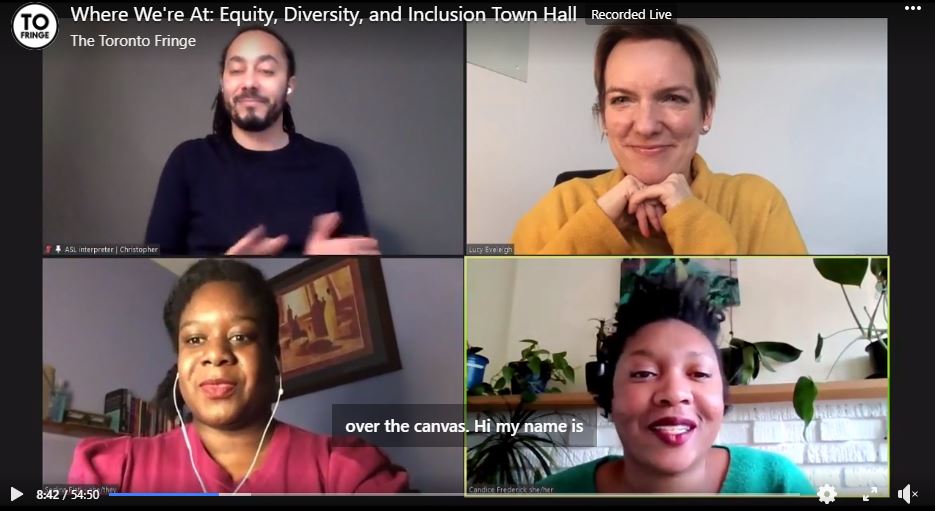 update from the consulting team - january 2021
On Sunday, January 24 EDI consultants Sedina Fiati and Candice Frederick of Where You Are Consulting presented the first part of an Equity, Diversity, and Inclusion report on the Toronto Fringe. This presentation was streamed on Facebook Live to hundreds of viewers. After the presentation, members of the community were invited into the Zoom room to reflect and share their perspectives. 
Thank you to Sedina Fiati for allowing us to quote her words below. 
How Did We Get here?
"It's really important for this work around equity, diversity, and inclusion for us to really place how we got here. Because we won't know how to move forward if we don't know where we are now."
The beginnings...
"How did the Fringe come about? The Fringe exists in a timeline that I would say comes about in 1951 with the creation of the Canada Council for the Arts. From the 1950s to the 1960s, we see the creation of these large regional theatres. We have Stratford Festival in 1953, Royal Manitoba Theatre Centre in 1958, Arts Club in 1958, Shaw Festival in 1962, and Neptune Theatre in 1962. This is the foundation that we start with. When you look at pictures of some of these legacy organizations, if you go back to their archives you're not going to see a lot of people of colour included. They were not holding any leadership positions."
"In the 70s we see Factory Theatre, Theatre Passe Muraille created, we see Persephone Theatre, and more. These were the reaction to these main legacy organizations. From 1980 to 2000, we see another reaction to the mainstream. We see Buddies in Bad Times in 1979, Nightwood in 1979, Black Theatre Workshop in 1980, Native Earth Performing Arts in 1982, Cahoots Theatre in 1986. The Fringe finds itself in 1989."
Why the Fringe?
"Why was the Fringe Movement created? What demographic of people were instrumental in creating it? Fringe was created in order to respond to the fact that if you weren't in the "in club" it was hard to get your work produced. It was created so that people on the fringes of the community had a platform to create theatre for the people, by the people."
"What's really important for me to think about, is if this is the basis of the Fringe and the Fringe Movement, if it's for and by the people, if it's for everyone, then it needs to be for everyone. And I think a huge missing piece is that if it needs to be for everyone it really needs to address the barriers to participating."
"One of the barriers in the arts is the idea of having gatekeepers. Which is why the Fringe has a lottery system. But that's just one barrier. And there have always been several barriers to participation to the arts. Barriers for artists that are not just curation. So it's really important for us to think about that work moving forward."
---

Update from the Consulting Team - DECEMBER 2020
"As both our world and the live performing arts industry is in state of reckoning, transformation, and a sober examination of the nature of our work, many organizations are taking the time to deconstruct their frameworks in regards to equity, diversity, and inclusion. This is an ideal time for the Toronto Fringe to undertake this work as their new strategic plan is on the horizon. Candice and I have been meeting with the staff, board, and various artists since October. Our methodology has consisted of in-person interviews and group discussions.
The conversations have been open, honest, visionary, and insightful. Our consultations have led us to discover various trends and observations that pertain to the live performance industry on the whole and some that are specific to the nature of the Fringe movement.
Thank you! We are excited for the possibilities of the Toronto Fringe."
- Sedina and Candice
---
Learn about our EDI Audit team:
Sedina Fiati

Sedina Fiati is a frequent panelist, moderator and facilitator in the areas of equity, diversity, inclusion, and the arts. Sedina holds a BFA in Music Theatre from the University of Windsor and has 10 years experience in workshop facilitating, coordinating panels and incorporating anti oppression practises into arts' and organizational processes. Recent panels and workshops: Tall Boys Season 2 (workshop for team), Dreaming Black Futures for Live Performance (PACTCon 2020), CITT: Hiring Diversity, Indie Arts Coalition: Open Space, ACTRA Toronto Town Hall on Anti Black Racism, Stratford Symposium 2019, Reel World Film Festival 2019, Making Space for Conflict with the AFC, CTV's Your Morning, Woke 2.0 Social Justice Workshop series. Sedina was the co chair of ACTRA Toronto's Diversity Committee and councillor and 2nd VP of council for Canadian Actors' Equity Association. She is currently a Principal with BIPOC Executive Search and was the facilitator for Generator's Artist Producer Training Program. She believes in radical empathy and generosity as we chart our way to a better future and stronger organizations.

Candice Frederick

Candice Frederick is an educator and workshop facilitator in the areas of anti-oppressive practice and healing from anti-black racism.  Candice also a published writer and has contributed to When It Happens: An Anthology of Creative Non-Fiction. She holds an Honours Bachelor of Arts degree and a Master of Counselling Psychology degree from the University of Toronto.  Her work experience includes over 15 years in community agencies and educational institutions.  In 2020, she founded a research project that focuses on Black-focused wellness resources across Canada called Black Wellness Canada.  She is currently a Principal with BIPOC Executive Search and was the Director of Student Services at the Randolph College of the Performing Arts.  Candice provides a space to engage in critical discussions that center intersectionality, equity, marginalization, and trauma.   She believes that the roots to systemic change must involve an acknowledgement of the past as we move toward building more intentional relationships.