The Fringe Club Outdoor Stage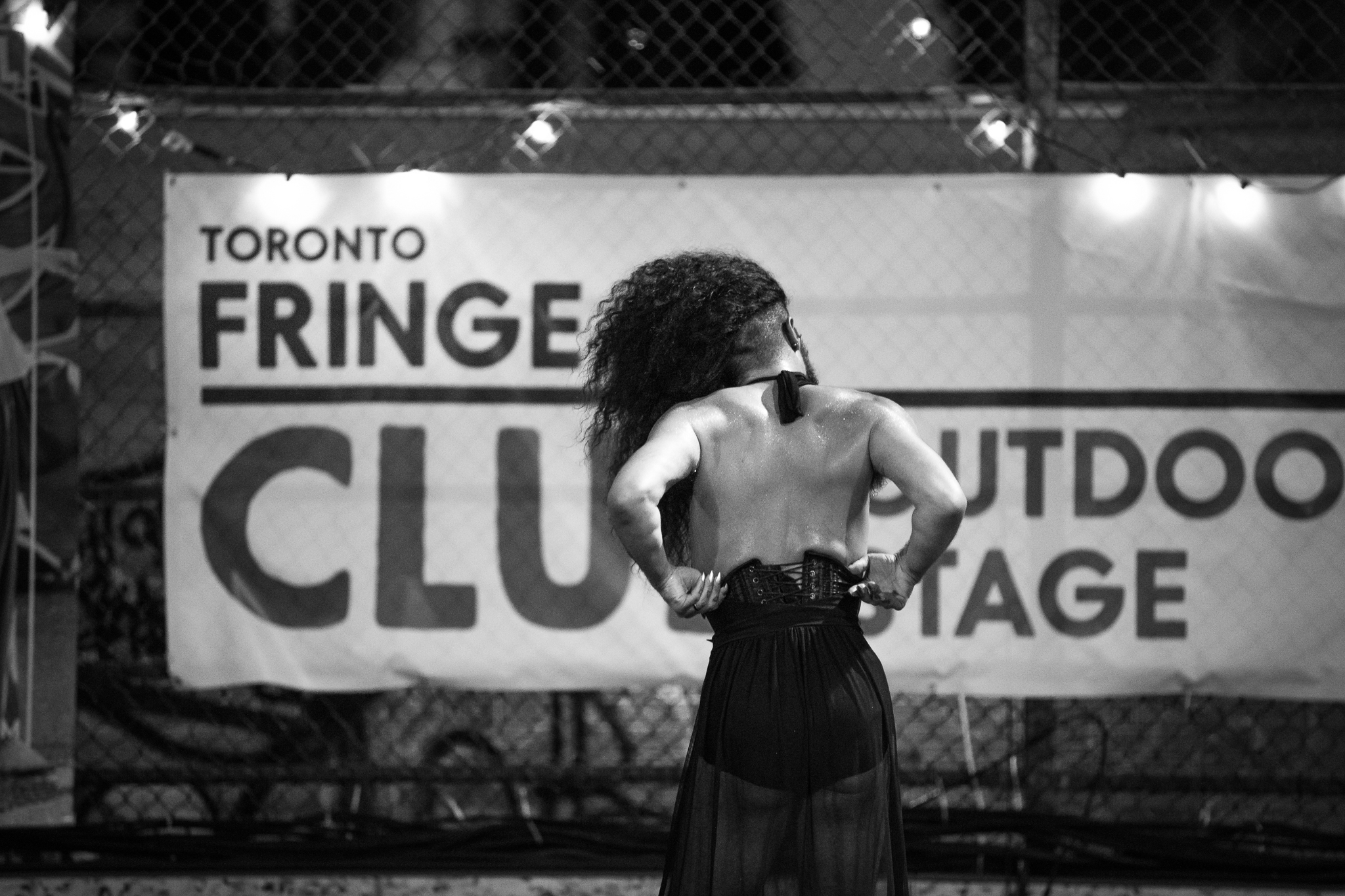 It's been almost a decade since Toronto Fringe ran a nightly outdoor stage. (Remember those rowdy nights at the Tranzac Club before we outgrew our humble beginnings?) In 2017, we brought outdoor programming back with a bang!
All events were FREE and open to the general public.
The following list of events occured during the 2017 Fringe Festival, July 5-16, 2017.
Wednesday, July 5th
7pm: Opening Ceremonies

Join Fringe's Executive Director Kelly Straughan and special guests as we usher in a new era for the Fringe. There will be laughter, tears and general merriment.

7:30: Sly Fox

Sly Fox is an 8 piece pop/rock/funk cover band that plays all your guilty pleasures. Time to dance like nobody's recording it on Facebook Live!

Sponsored by Art + Science.
Thursday, July 6th
8pm: SINGular Sensation

I Dreamed a Dream in time gone by that SINGular Sensation came back to the Fringe Club for One Day More. We know you've been waiting 525,600 minutes for an evening of musical theatre karaoke - join host Jennifer Walls and live musicians for Some Enchanted Evening of song.
Friday, July 7th
8pm: Fun Funky Friday in memory of Howard Hacker

10 piece funk band Yasgurs Farm will keep you truckin' with a mix of favourite hits and groovy originals. Follow the call of the disco ball. Can you dig it?
Saturday, July 8th
12pm-5pm: Live at the Fringe

On the weekends our outdoor stage is filled with non-stop entertainment. Enjoy spectacular circus acts, music, dance, magic, jugglers, acrobats and more. It's all free and all fun!

8pm: Light Up the Night Dance Party

Grab your friends, your glow sticks and come on down to the club where DJ WAVGODS spins the hits.
Sunday July 9th
12pm-5pm: Live at the Fringe

Enjoy spectacular circus acts, music, dance, magic, jugglers, acrobats and more. It's all free and all fun!

8pm: Fringe Unplugged

It's Sunday night in the club, so chill out with all acoustic sets from some of Toronto best emerging music talent.
Monday, July 10th
8pm: Fringe Cabaret hosted by James Gangl

Remember the nightly Fringe Cabaret from days of yore? After a 7-year hiatus we welcome it back to the club. Fringe artists will dazzle you with an entertaining, funny and risqué variety show.
Tuesday, July 11th
8:30pm: Free Sunset Yoga

Join YogaTree for Flow in the 6ix, an open level class set to an energetic, urban, and curated playlist of Toronto artists. The first 15 yogis will receive a free yoga mat from Gaiam! Bring your own mat, some water, and your beautiful self. Sponsored by YogaTree.

7pm: World Fringe Day

70 years ago today, the Fringe movement was born in Edinburgh. Join us as we live stream "Happy Birthday to Fringe" to 200 Fringe Festivals around the world.
Wednesday, July 12th
8pm: Slay Day featuring Beyography and Beardoncé

Boys and girls it's time to get out your bodysuits and high heels. Arrive at 8pm for a Beyoncé tribute class and learn how to dance like Queen B with the choreography experts from Beyography. Afterwards be entertained by the Sasha Fiercest drag queen of them all, the one and only Beardoncé.
Thursday, July 13th
8pm: Awards Ceremony

Join Executive Director Kelly Straughan as she announces the winners of the Patron's Pick and our artist awards. Will you be the winner this year?

9pm-10:30pm: Uke can sing

Join KFunk and Lady Ree as they lead their free 'Uke Can Sing' beginner ukulele workshop with a song of celebration. Bring your own ukulele or borrow one of ours.
Friday, July 14th
8pm: Yuk Yuk's Stand Up Comedy Night

Canada's national comedy club comes to the Fringe in this one-night only event. Yuk it up with some of this city's top talent. Lineup just announced!

Featuring:
MC - Keith Pedro
Mike Rita
Nigel Grinstead
Adrienne FishJarett Campbell
Sandra Battaglini
Saturday July 15th
12pm-5pm: Live at the Fringe

Enjoy spectacular circus acts, music, dance, magic, jugglers, acrobats and more. It's all free and all fun!

8pm: Slaight Music Night featuring Tomi Swick and Kayla Diamond

Opening act Kayla Diamond is the first place winner of Slaight Music's It's Your Shot Contest. At 9pm Juno Award winning Tomi Swick performs his latest and greatest hits.
Sunday July 16th
2pm: Toronto's Got Talent

Let your talent shine through at Toronto's Got Talent for a chance to perform in the finals and win amazing prizes. Sign up for a performance slot on our website. Spaces are limited and it's first come first served.

8pm: Toronto's Got Talent Finalists

Meet the top five finalists and watch as we crown someone the top talent.