Future Voices Archive
Welcome to Future Voices: a showcase for youth, a platform for discussion, a peek into the future of our Fringe community. In the months to come, we hope to use this page to highlight exceptional moments in our youth programing, post articles and content from youth themselves, reflections on Fringe's Equity, Diversity, and Inclusion work, and more.
If you have an idea for a post, please contact community@fringetoronto.com to discuss. 
---
The New Young Reviewers Program, supported by the Jon Kaplan Legacy Fund, is a workshop series and writing group for emerging theatre and performance reviewers Canada-wide, ages 15 and up.

Throughout January and February 2022, the cohort of writers, led by Signy Lynch and Stephanie Fung, have been watching and reviewing shows at the Next Stage Theatre Festival. We are so excited to share some of their writing with you here.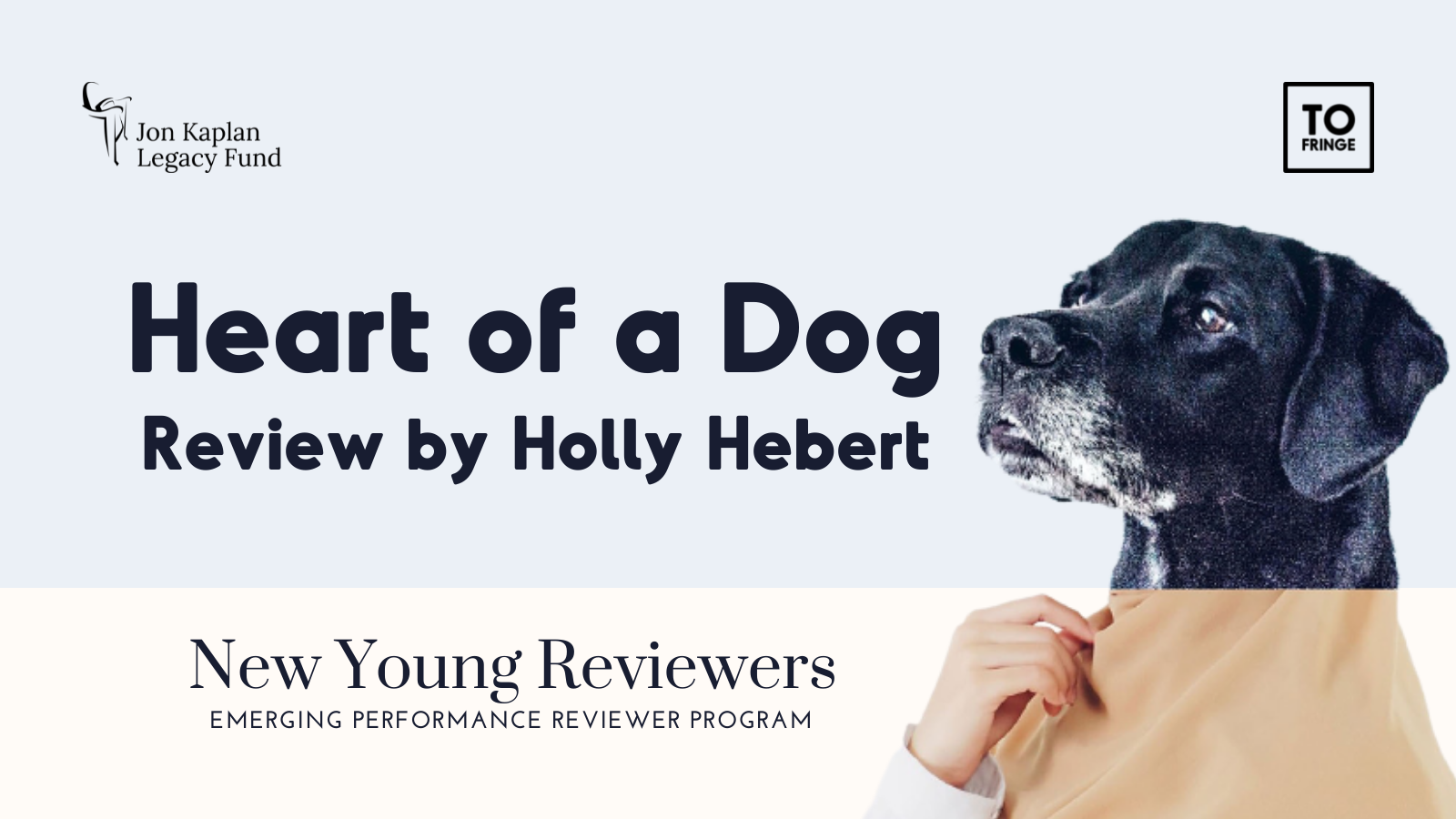 Review: Heart of a Dog by Nowadays Theatre

By Holly Hebert (02/11/2022)

I love theatre. I love it in many genres and many forms. But I do have favourites. Theatre that could be deemed outrageous and vulgar, that does not hold back in its opinions and nibbles away at what society deems appropriate – it is that kind of theatre that makes me itch for more.

Based on the book by Mikhail Bulgakov, Mohammad Yaghoubi's Heart of a Dog, produced with Nowadays Theatre Company, exemplifies a production of this nature. Set in Russia, this show confronts the Soviet Union and their communist ideals. An internationally-renowned professor (Neta J. Rose), doctor (Siavish Shabanpour), and housekeeper (Melanie Grace), all of considerable wealth and class, have undertaken a project to transform a dog into a human. Replacing the dog's pituitary gland with that of a person, the dog, now called Sharik (Aida Keykhaii), is granted life in human form. However, as Sharik develops personal autonomy, his politics prove to be opposed to those he is surrounded by as he continuously questions classism and the role his creators play in it.

The language Yaghoubi deposits into the script evokes rich characterization and dialogue that spells no fear. As a director, he inserts more commentary than that is available in the pages of the script. Mounting this show in Iran twice prior, Yaghoubi notes the similarities between Russia and Iran in their totalitarian states wherein each country's citizens have been controlled by either communism or religion. In this connection, Yaghoubi has all actors in this 2022 production at the Next Stage festival wearing headscarves, as explained just before the play begins. 

Although Heart of a Dog was intentionally set to be an in-person production of the Next Stage Festival, it now exists on-demand due to COVID-19 restrictions that impacted the festival. However, rather than adapting the show to specifically suit a digital format, the choice was made to record the play as it would have been originally performed.

Given the time constraints in shifting platforms fairly last-minute, and the play's evocative nature which was more suitable onstage than online, this was a strong decision. Although the recording does restrict certain production elements—audio from an actor who did not receive a mic, or video quality impacted by lighting conditions and camera angles—the performances ultimately shined through the screen.

Without a doubt, the star of the show was Keykhaii, who embodies such a unique form that the only conclusion is to believe she was once a dog. She mangles her body as she speaks, and formulates words in a jittery, drawn-out fashion. It is clear Sharik is still learning to articulate while following canine-like impulses from panting to fetch, and Keykhaii does not hold back in illustrating this. Digging deep is an understatement for her performance.

Sharik's character is exactly what distinguishes the attempt at satire from comedic mockery. As a vulgar alcoholic who is ignorant of his sexual repulsiveness, Sharik incites arguments, threats, and unwanted advances that all drive the play towards being far more dramatic than humorous. The heartbeat of irony criticizes each character for the politics they align with and their behaviours that follow suit, resulting in an absurd metaphor that inflicts tension and distress.

This atmosphere is set from the moment the show begins, with a high-pressure burglary that pushes the stakes through the roof. Scenes with such turmoil continue throughout the show, invoking a pin-dropping silence even from the comfort of my own home. But while the dialogue and high-emotion carry these moments to the next, there was no sound design that helped build a climax. At times, I was taken out of the world to imagine the uneasiness I could further experience had a culmination of sound unfolded.

Though, this production of Heart of a Dog has injected great characterization, pace, and physicality into their show, making for the type of theatre that leaves you perked up on the edge of your seat. It displays the worst and the best in characters, spelling out flaws in politics from every point of view.  This production is strange, it is tense, it could be deemed outrageous and vulgar. And that's exactly why I loved it.

Holly Hebert is an emerging artist and critic with a passion for curating theatre, capturing a project under production, and reviewing Canadian art. She believes in the importance of various perspectives and stories within the performing arts, committing to pursue evolving theatre.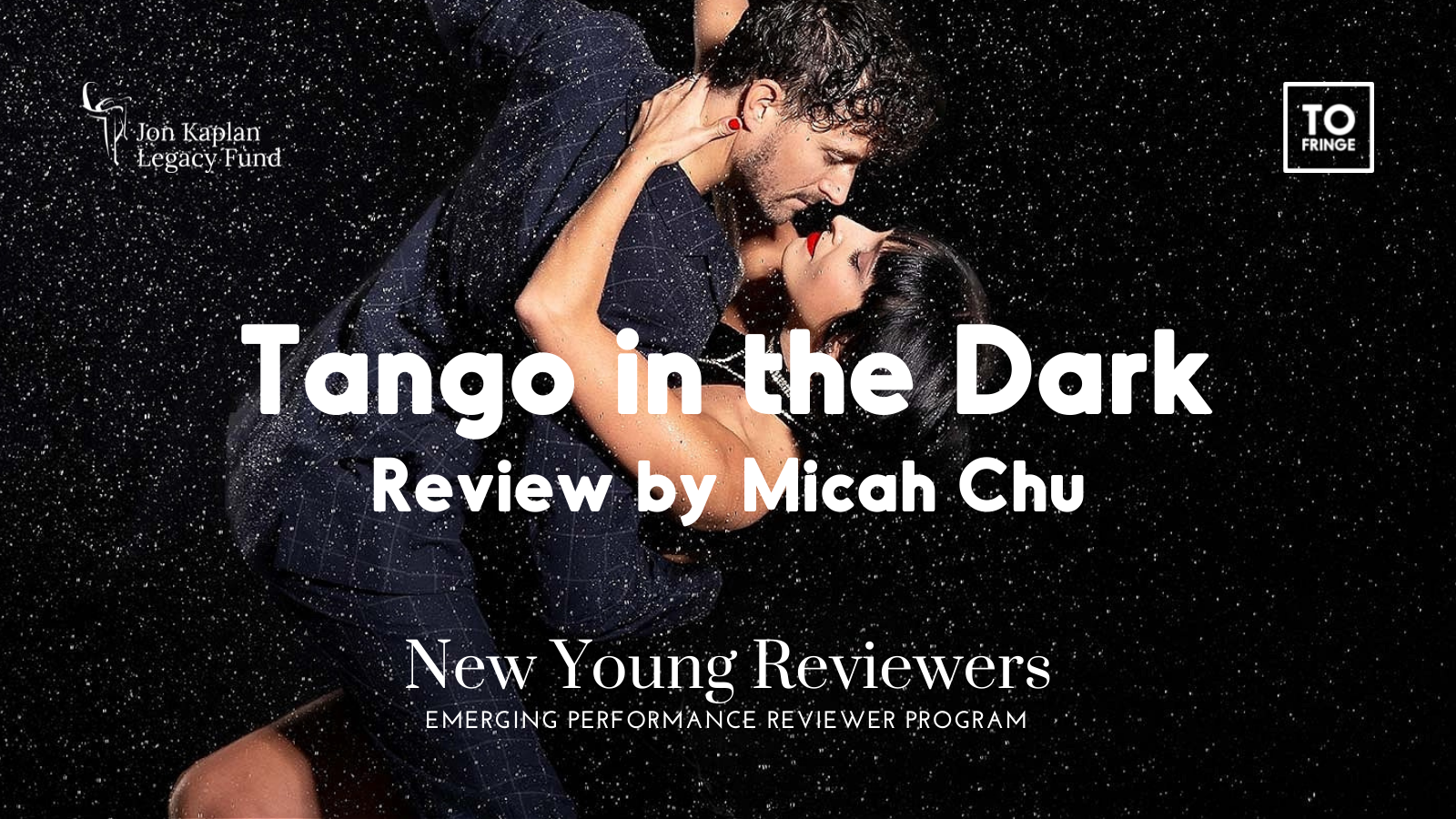 Review: Tango in the Dark by PointeTango

By Micah Chu (02/11/2022)

Do you miss the buzzing energy in the room as the curtain draws and the spotlight shines? Seeing the faces of the performers, stoic in the wake of the day, but exuding a palpable excitement. These moments were lost after the halt of in-person theatre but when revisited in digital form, PointeTango's Tango in the Dark gives a similar experience through the familiarity of our screens.

Dance-based pieces leave more to interpretation than conventional theatre works but there is always still a story to be told. Tango in the Dark sees two dancers (Erin Scott-Kafadar and Alexander Richardson) intertwining and separating to the eclectic mix of music and poetry, and seems to follow them as they explore the stages of a relationship.

These performances are supported by more than just the music and dancers. Through various lighting and colour corrections, the dances evoke a full range of emotions. With neon lights and dark, intimate rooms, the initial dances vaguely imitate a club scene. There is an element of sensuality and lust, like the beginning of many relationships.

Following this, the pair then foray into a series of happy dances before falling into some melancholic melodies. Through this, the relationship develops, passing through the couple's honeymoon phase, fights, and eventual reconciliation. The visuals follow the music, brighter and warmer with the joyful moments, filling us with a sense of hope for the dancing duo. When in sorrow, the atmosphere becomes dark and solemn, occasionally turning the picture to black and white.

Adapting a dance performance into a film is a challenge that the team faced head-on. Even during the low-spirited moments, the effectively simple editing shines. Without special effects or fancy camera work, the editing allows the performance to speak for itself.

The story is shown through various angles that allow the audience to view the dance in a more immersive manner. There is a power in simplicity that is exercised, it paints a vivid picture with two colours, music and dance. Through clever use of editing and camera work, nothing more is needed to feel the story and emotions that are introduced.

Some inconsistency in the camera quality between shots creates rough transitions but this is quickly saved by the performers as they capture the audience.  Jacob Marsh, the director of photography, captured the beauty of each performance in the small details and the wide overheads.

Musicians are often overlooked by audiences, despite their vital contributions to performance pieces, but Tango in the Dark brings them the attention they deserve through cuts and overlays. Seeing the musicians (Rebekah Wolkstein, Drew Jurecka, Robert Horvath, Joseph Phillips), their passion, and proficiency in their craft ties together the art that is Tango in the Dark.

As a feature film created during the heat of the pandemic, Tango in the Dark shows the adaptability of artists when unexpected circumstances arise. Beautifully illustrated and simply captured, it highlights the complexities of human connection with the rhythm and flow of dance.

As an actor and small-time filmmaker, Micah Chu has always been fascinated with films and storytelling. Join him as he brings a whimsical and fresh perspective to everything in front and behind the camera!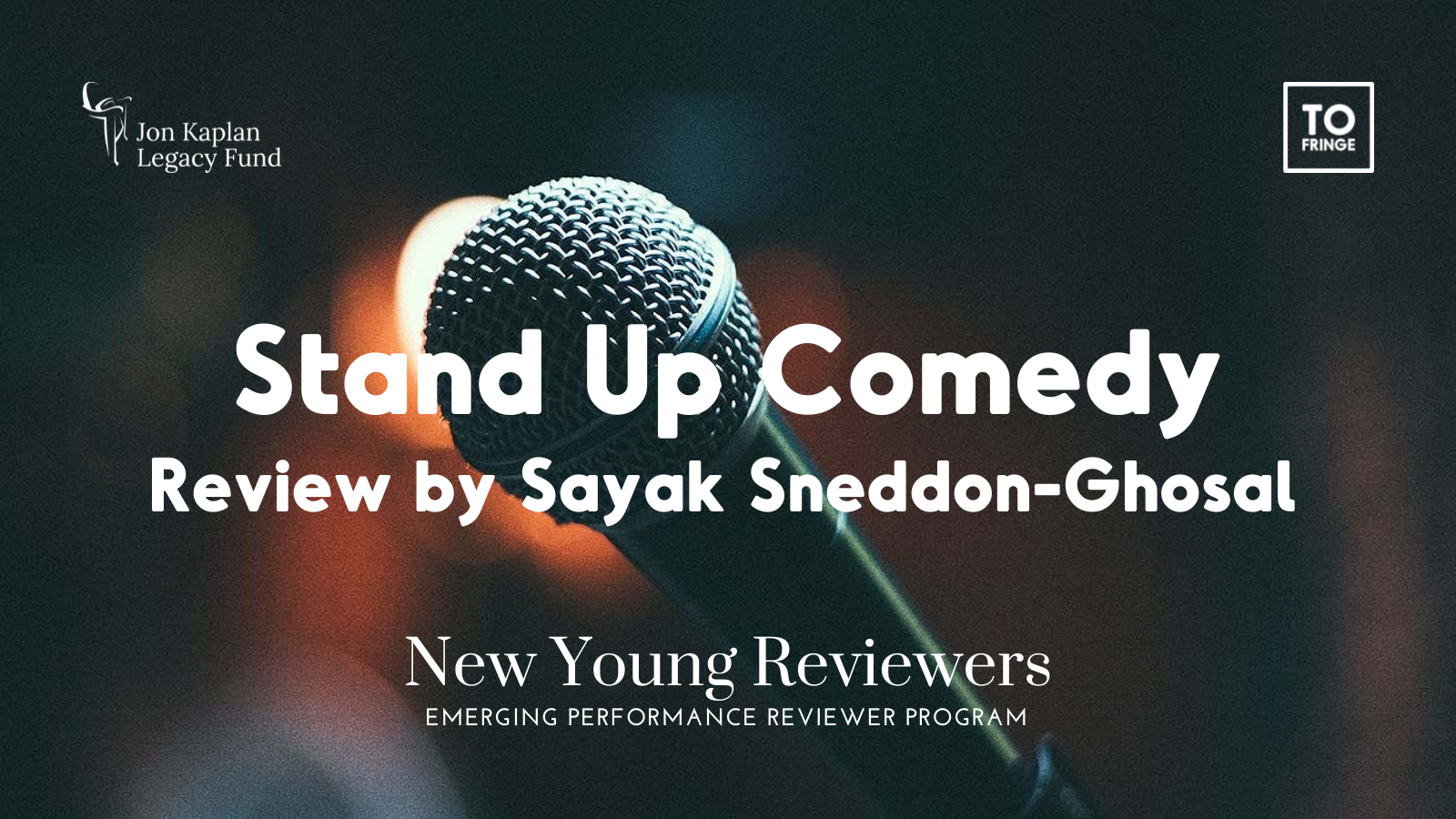 Review: Stand Up Comedy by Comedy Records Live

By Sayak Sneddon-Ghosal (02/08/2022)

As I sat down to review Stand Up Comedy, I found myself unsure of what to say and where to start. Not because I disliked the show! Quite the opposite, actually. I really enjoyed it. But any technical observations or feelings I had about the show were overwhelmed by two contrasting emotions: joy and sadness.

Stand Up Comedy, a stand-up special featuring several of Toronto's best stand-up comics (Nick Reynoldson, Todd Graham, Adrienne Fish, Efthimios Nasiopoulos, Dena Jackson, and Monty Scott with special guest host Faisal Butt), is a pre-recorded event, filmed in front of a raucous, vital live
audience at Ada Slaight Hall. Overall, this show is a smart sampler of Toronto's stand-up scene which serves as a visceral reminder of the delight and bodily catharsis that arise when we watch high-quality comedy.

As each comic aimed their anecdotes and fired their personal stories and staccato punchlines, I couldn't tear my eyes from the screen. For 85 non-stop minutes, I was enthralled and energized by the sheer talent of Toronto's comedy scene. Nasiopoulos' set about his flight into Toronto, aging, and eating particularly stood out because of his energetic but not over-the-top delivery which perfectly suited the subject matter of his set and gelled well with the crowd. While the diverse humour and subject matter did not always satisfy my tastes, there is something for everyone here. And as much fun as Stand Up Comedy was, it also reminded me of the deeply human, personal connectivity that defines the stand-up experience at its best. I longed for the community found in being a part of a live audience—packed together and laughing uproariously as we recognize our own foibles and follies, peeking out from the unexpected observations of bright comics doing what they love to do, just a meter or two away from us.

I desperately wished the screen between me and this stand-up comedy show would somehow dissolve. That it didn't, and I remained alone in my room. It was a little…well, depressing. I was jealous of those lucky few who got to experience this show in person, as I felt like an audience member to the audience.

Stand Up Comedy is something of a pandemic time capsule. It's a slightly painful reminder of what this show could have looked—and even more importantly, what it could have felt—like under different, more normal circumstances. So while I recommend Stand Up Comedy to adults who want a good laugh, be prepared that it may not be the dose of escapism you expected. It just wasn't enough for me.

Sayak Sneddon-Ghosal is a first-year social work student at Laurier University who loves theatre and never misses an opportunity to talk about it! He currently writes about theatre, music, and books on sesayarts.com. Pre-pandemic, Sayak loved participating in YPT's Everyone's a Critic at select student matinees.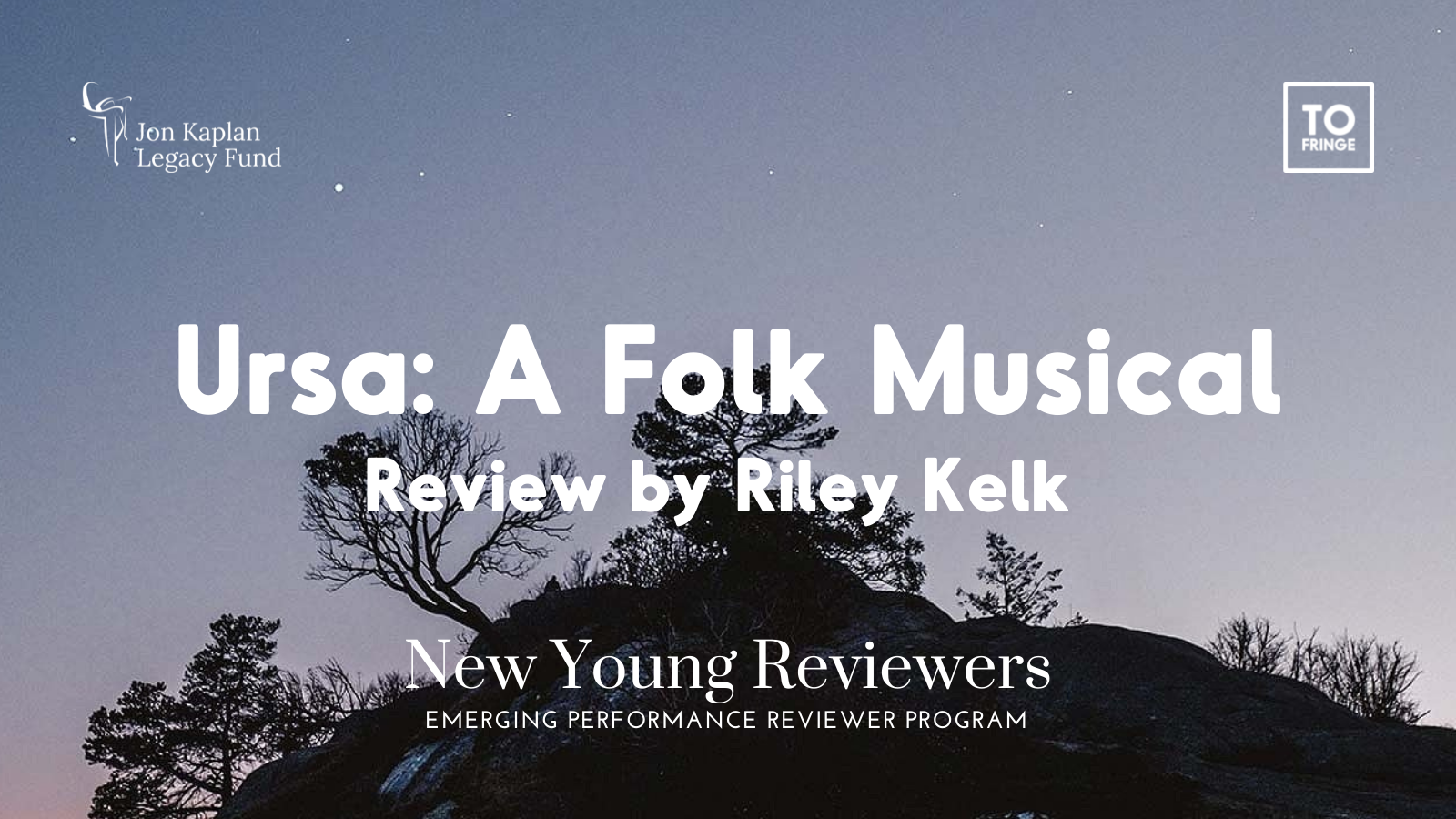 Review: Ursa A Folk Musical by The Uncommon Folk Collective

by Riley Kelk (02/08/2022)

The Uncommon Folk Collective presents Ursa: A Folk Musical, the heartwarming, bittersweet tale of a restless teenager, Ursa (Belinda Corpuz), who runs away into the forest in search of adventure and meets the anxious, lonely Bear (Stephen Ingram). The two become fast friends, but run into obstacles as Bear fights his natural instinct to hibernate and Ursa finds herself just as restless to return home as she was to leave it. This story is about friendship, change, and the in between moments of life. It is viewable digitally as part of the Toronto Fringe's Next Stage Festival until February 13th.

True to its title, Ursa: A Folk Musical is told mostly through song. In addition to Ursa and Bear, writers and co-creators Sam Boer and Jake Schindler also appear on stage, singing and playing instruments. Sam narrates the story, framing it as a story told by his grandmother during his childhood. The music is catchy and warm, with lovely harmonies between the four voices.

The show leaves a lot up to the audience's imagination. The set is fairly minimal, a cloth backdrop being the most eye-catching feature. There are a few moments where a part of the backdrop is used as a screen for shadow puppets, or to show the shadow of the actor standing behind it. I found this incredibly charming and would have loved to see even more shadow puppetry. Overall, there may more telling than showing, but with the narration combined with the music, the small set, and the cozy lighting, the whole show really does capture the feeling of being told a story by grandma. The set and lighting also help evoke the sense of being in a bear's homey cave, without actually having a visual representation of a cave.

The chemistry between the performers onstage is obvious by how they smile at each other during songs. The friendship between Ursa and Bear is so sweet it borders on a kind of platonic romance. One of the things I like most about this show is the way it doesn't try to give answers. It is simply telling a story. A good story. A highly relatable story, to anyone who has ever been lonely or scared or had a gnawing restlessness, which I imagine is almost everyone. This show would also be great for young audiences. I could certainly imagine it performed at my childhood elementary or middle school. It is tender and playful and full of good music. By the end of it, you will certainly be singing along, "Please tell me the story of Ursa and the Bear."

Riley Kelk (they/them) is a graduate of Centennial College's Theatre Arts and Performance program (2021). They are a multidisciplinary theatre creator and writer. They value experimentation, collaboration, and playfulness in all artistic processes.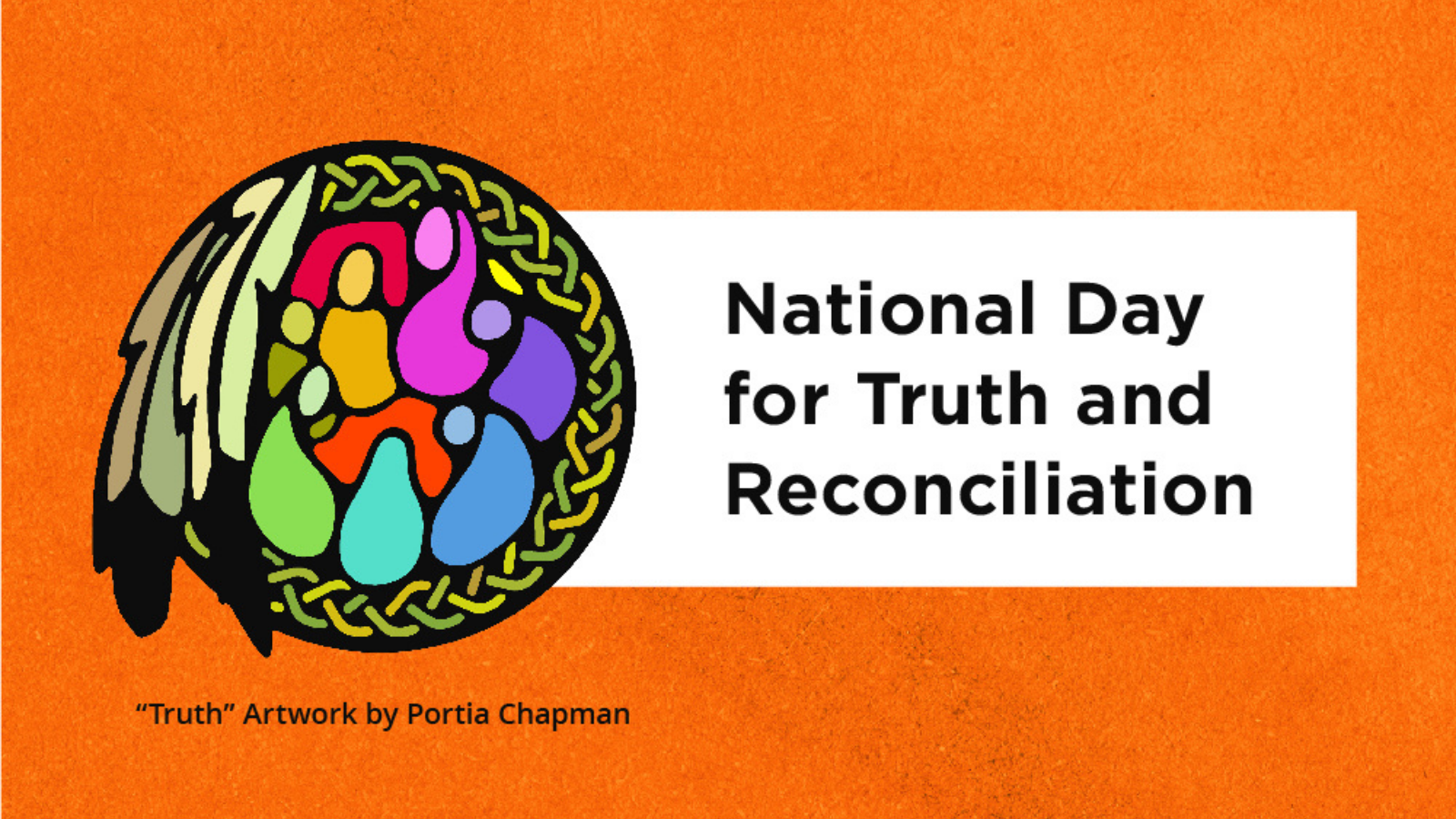 A Reflection on the first National Day of Truth and Reconciliation 
From our Community Engagement Senior Coordinator, Yuddha Maharaj:
Thursday, September 30th, 2021, marked the first day of the federal statutory "holiday" of National Truth and Reconciliation to commemorate and honor the survivors of the Residential School System here in what is currently known as Canada. As it was the first year of National Truth and Reconciliation, events took place across the city to commemorate the day, as well as provided Canadians the opportunity to observe and reflect on reconciliation and support Indigenous communities.
Some of the events that took place are as followed:
A sacred fire and pipe ceremony was held by Michael Garron Hospital at the Bear's Den All Nations Traditional Medicine Sweat Lodge, where those in the community shared space to reflect upon the residential schools, missing and murdered Indigenous women and girls, and to become aware of the shared responsibilities to Truth and Reconciliation with First Nations, Inuit, and Metis communities.
Native Arts Society held a pop up at Allan Gardens for the sale of orange t-shirts, which was screen printed by hand. The group of individuals were comprised of intergenerational survivors of residential schools, whom have been making these t-shirts for years.
1492 Landback Lane, which is an organization consisting of Six Nations of the Grand River Territory Land defenders, hosted a Jam Unity concert at Dufferin Grove. The concert featured performances by Indigenous artists, such as a fourth generation residential school survivor, Layla Black.
Looking forward, it is important for us as settlers on this land to commit to continuously learning of the genocide and trauma Indigenous peoples have experienced, as well as the current injustices taking place in their day to day lives. It is not sufficient to only observe and commemorate the lived and living experiences of Indigenous communities on a single day, rather make it a practice to work on restoring justice, continually work and learn on how to uphold Indigenous sovereignty, as well as move past truth and reconciliation, beyond September 30th.
Click here to view some of the resources our staff shared in preparation for this day.
By Yuddha Maharaj (she/her)

Yuddha is a social and environmental activist with over five years in the social service sector. She focuses her work largely on social and climate justice for both people and the planet through grassroots organizing and mobilizing, community outreach, and advocacy. Besides her professional background, she has a passion for the arts and is looking forward to using her skills to mobilize change and bridge the gap in opportunities for underrepresented communities in this space.
The New Young Reviewers Program (previously, Teenjur Young Critics), supported by the Jon Kaplan Legacy Fund, is a workshop series and writing group for emerging theatre and performance reviewers Canada-wide, ages 15 and up.
Throughout the festival, the cohort of writers, led by Signy Lynch and Stephanie Fung, have been watching and reviewing shows at the Digital Fringe. We are so excited to share some of their writing with you here.
Review of Just Pervs

By Caroline Toal (She/Her)

(29/07/21)

 

At first glance, Just Pervs unfolds what seems to be the rebellious, in-your-face, coming-of-age story about the 'Pervs'; a group of tightknit high school girls (Cassandra Henry, Jahnelle Jones, and Millie Herridge) who rally around unapologetically exploring their budding sexualities, but in a shocking twist we realize Just Pervs also tells the non-linear story of a woman reflecting on the time they spent together in the aftermath of her friend's disturbing murder. Through these intermingling storylines, we take a hard look at the way our society can invade our idyllic youth and impede our authentic selves, potentially leading to catastrophic results.

Adapted from a short story by Jess Taylor and inspired by Czech New Wave cinema, this show incorporates the use of documentary techniques, mixed media, and direct address, engaging us in a fast-moving, avant-garde experience. As we flit from shot to shot, at times the sound and picture are not synched. Whether intended or not, it works, adding a particularly eerie feeling throughout. Movement, inspired by Laban Movement Technique, is used well, with soft, airy movements during teenagehood to staccato and jerky ones which ramp up the tension in adulthood. Filmed beautifully in a schoolyard, director/cinematographers Guilia Pittiglio and Davinder Malhi succeed in transporting us wherever the poetic script wants us to go. These elements help ease us into steering away from plot and character to focus on the larger themes of the play: friendship, sexuality, grief, identity, and liberation.   

That being said, Reid Millar has written a fascinating, complex lead character in Jill (Sanskruti Marathe), the accidental founder of the 'Pervs'. She keeps us intrigued when she lets us in on her strange dreams, preoccupation with sex, and worries about herself. At the end, we consider that Jill's moments of self-reflection may be her way of questioning if her friend's murder could have been prevented or if it was in any way her fault. 

Overall, Just Pervs makes for a bold, thought-provoking, surrealist piece with an impactful punch.

Caroline Toal

Caroline Toal is an award winning actor, playwright, and graduate of George Brown Theatre School. With ten years of experience working in the theatre industry, she has originated roles for multiple new Canadian productions and has been nominated for six awards, winning two Dora Mavor Moore awards. Caroline co-wrote on Single Thread Theatre Company's immersive production Ambrose in 2015 and is currently working on her first play, Survivors.

A Breath of Fresh Theatre

Holly Hebert (She/Her)

(29/07/21)

The stage is set. The lights come up. The audience is absent, yet my heart is still pounding. Pre-recorded and seen through a screen, Aryana Mohammed's Mangoes from the Valley is yet the closest to a piece of real-life theatre that I've seen in over a year. Yes, it is the production elements, the creativity, and performance, but more than that it is the feeling the show evoked within me. Mohammed shares with an audience an incredibly moving production, showing the second-by-second reality of a sex worker in order to illuminate the many experiences of Venezuelan women and their migration to Trinidad and Tobago.  

Using nothing but breath, the only performer, Renee King, shifts between calm – almost sedated – and frantically ripping apart her bedroom. King's movement is utterly captivating, playing not only the protagonist but also twisting her body into the shape of an attacker. The truth released in her performance is horrifying to think of as inspired by genuine stories, and its depiction employs such physical vulgarity that it bounces off every square inch of the small room. It slides down the metal chair, dives into the silver basin, doubles off the twin bed, and never falters to get lost in the contorted body of King.

Every action holds immense precision while abounding with raw, truthful characterization. Each person involved in this show is working in tandem to create a piece so vulnerable and consequential that it made me pull the people close to me in tighter. I winced and trembled and clenched my sweaty palms together, reminded of how theatre should make a person feel. It is an achingly beautiful experience to witness a production so powerful and stimulating – I felt every emotion from sorrow to fear, but the journey that unfolded before me offers viewers a growing conscientiousness and understanding. Mangoes from the Valley showcases what a young woman will do for her family, the pain and suffering she will exchange for the immense care of loved ones. 

This is the kind of show that inspires action, the kind of show I encourage anyone and everyone to see*. This is theatre. 

*Note: It is 18A.

Holly Hebert

Holly Hebert is an emerging artist and critic with a passion for curating theatre, capturing a project under production, and reviewing Canadian art. She believes in the importance of various perspectives and stories within the performing arts, committing to look at such through different lenses for theatre to continuously evolve in times of uncertainty.

A Review of Our Exes Are Dead

Chloe Emmenegger

(03/08/21)

Our Exes Are Dead is a light comedy, a collection of short, yet perfect-length main scenes that are packed with original humor. The play doesn't leave the viewer with specific knowledge, rather it is intended to bring heartfelt laughter.

The production's intro is set in a park, and is extremely engaging, setting a playful tone for the rest of the show. The filming angles and zoomed in/out views add interest. The locations used for the scenes are well chosen, the props have been given great thought, and the digital effects, lighting, and music, matches the mood; none of these elements are overpowering the performers.

Created and acted out by just two—Maggie Chafe and Rachelle Mazzilli—the film may trick you into believing otherwise, since both actresses play multiple roles. In fact, I believed there were three performers in the café scene, which was so expertly shot, even while never showing more than two people at a time, that it was deceiving until I watched it again. Chafe and Mazzilli's clear facial expressions, comfort in each other's personal space, as well as many purposeful movements and gestures, give each character life and add emphasis to scenes.

There were however, a few elements that could be improved. Transitions were awkward and the screen would freeze at the end of each scene, leaving the viewer with too much wait time or the nagging suspicion that they have an internet problem. There were three few-second-long scenes that might have been an intermission, but were too short for that purpose and too short to tell a story. As such, those scenes didn't benefit the production, instead they disrupt the viewer's focus, and seemed a little pointless. 

One of the main scenes, the table setting scene, was interesting but not particularly funny as it was unclear why the performers slid around a room setting a table the whole time. Another scene involved an interview with a character who was poorly portrayed. This character was a very dumb rapper-Canuck who stuttered and couldn't think—always looking at the interviewer for help on what to say—should have been two distinct characters: a fast talking rapper (perhaps one who can't shut up), and a dumb Canuck. It is fine to laugh at such a caricature, but rappers, although not always well spoken, will usually have a lot to say. 

Lastly, the title Our Exes Are Dead didn't seem to reflect the stories within the production. I was a little surprised that none of the characters ever mentioned an ex-partner even once. Overall, the production is enjoyable, and likely to bring forth a few laughs.

Chloe Emmenegger

I'm almost 18 and have two amazing bunnies. I have many crafts and projects in various states of completion, but almost always finish what I start. I also love hip hop dancing and graffiti.

A Love Letter To Venus & Adonis

Cindy Ci (She/They)

(03/08/21)

When I think about Venus & Adonis
I think of the gift you that was generously given
Of infinite thoughts and feelings
that gently wraps around my head in wondrous techno pop notes
Praise the design
Praise the speech
Praise the movement and
Celebrate the power it holds to us 

The power that reminds us all
Localizations are not too small
To change someone's life 

With much love and a changed heart,
With all compliments and well wishes
A new fan

Cindy Ci

Cindy Ci (she/they) is a Chinese-Canadian theatre artist based currently in Katarokwi/ Kingston and has spent over 10 years working in all aspects of the theatre. She is excited to continue her exploration of productions that challenge our notion of humanity and the advocacy of Asian-Canadian artists in this field.

Sayak's Reaction to You Can Do It, Put Your MASK Into It!

Sayak Sneddon-Ghosal 

(03/08/21)

You Can Do It, Put Your MASK Into It! is a digital theatre piece by Potato Potato (Daniel Bagg, Emily Anne Fullerton, Nicole DeAngelis, Aliya Hamid, Rami Khan, Ashlyn Kusch, Thomas McDevitt, Sam Mercury, Erika Rogstad, Lizzie Song, and featuring Aliya Hamid) that is as smart as it is hilarious. It puts the feelings of many — including my own — about the past year (in terms of politics, the pandemic, and our reckoning with racism, white privilege, and colonization) into an innovative, thought-provoking, wildly uneven but overall hysterical work.

I wanted to write a traditional review for this show, but I came up blank. To be honest, I couldn't come up with meaningful analysis or observation for You Can Do It, Put Your MASK Into It! because this show is unlike anything I've seen before. It's a cutting, direct, and at times profane call-out of many of Canada's—and specifically Onatrio's—problems (Doug Ford looms hilariously large in every way). And just as often, it's something wildly silly and entertaining that makes its one hour runtime fly by. 

You Can Do It, Put Your MASK Into It! careens wildly across the comedy landscape. From the accurate, sad, and funny flip of "This Land Is Your Land" to "This Land Is Their Land" (about our colonization of Indigenous peoples' land) to the wonderfully  ridiculous (but still alarmingly accurate) Family Feud parody between Justin Trudeau and Erin O'Toole, this production is anything but one-note. It constantly switches topics, actors and genres, but never loses your attention throughout its runtime.

You Can Do It, Put Your MASK Into It! is also distinctly digital. This jam-packed sketch show would not have the same effect if it were mounted in a "traditional" theatre setting. The show uses clever editing, camera angles, special effects, green screens and puppets,pairing them with a variety of unpolished interior and exterior settings and wonderfully cheesy costumes. The largely diverse group in those costumes is fresh, authentic and fearless—and the humour they create is something I really enjoyed.

Unlike other shows throughout the  pandemic,  I felt happy rather than empty because I was watching something that pushed the digital format and used it to its full capabilities instead of  missing audiences and in-person actors.

It's original, it's raw, it's crazy funny, and I'd even argue it's important in the way it captures and skewers this unique, mid-pandemic cultural moment in Canadian history. You Can Do It, Put Your MASK Into It! is a great example of what a creative group of young people who take no prisoners can do with digital theatre.

Sayak Sneddon-Ghosal

Sayak just graduated from the Drama Program at Earl Haig Secondary School, and is headed to Laurier University in the fall. He loves the theatre and never misses an opportunity to discuss his opinions on what he sees! Pre-pandemic, Sayak loved participating in YPT's Everyone's a Critic at select student matinees.

A Review Of The Production ComMUTE

Alessi Emenegger 

(03/08/21)

ComMUTE is created and acted by members of Deaf Spirit Theater. The show consists of multiple independent scenes that take the audience on a journey through the present and future. The production uses sign language throughout the whole show, layering subtitles and voice overs, allowing the show to be appreciated by everyone, hearing or not.

The performers are very expressive, allowing the audience to understand the characters' emotions. It is easy to tell who the main characters are, and there are a few background characters that you don't get confused about. The actors take on diverse characters, who vary in age and career, representing different stages in life.

The scenes vary from science fiction to horror, drama to comedy, giving each scene a unique feel. Each scene presented is well thought out and creative, with hilarious details.  The one scene that stood out for me took an every-day zoom video call meeting and turned it into a comedy. While some scenes are lighthearted and make you laugh, others let you reflect on recent problems that the deaf people face that you may not have considered before, such as how to lip-read when people are wearing masks.

In the first scene, positioned in the future world of 2058, the scene background is too busy, perhaps there could have been a simpler or blurred background so the focus is on the characters. This is especially important in the first scene where hearing people may have to adjust to the sign language, so they are not disoriented. In this scene, it is also hard to tell the age of the characters, as they are supposed to be teens but look a lot older. This could be made more clear by incorporating more youthful clothes. 

Sound effects are very good, immersing the audience more deeply into the scene. However, the voice over actors do not match the actors, and there should be either only subtitles or only voices, not both. When using both, there is a lot happening and attention is diverted away from the scene, so the actors are not fully appreciated. 

A few scenes are a bit confusing, where I am not sure what happened. For example, I am not sure when the scenes transfer from the present to the future and back, as the settings look relatively similar, all taking place in a train and train station. Throughout the production, the videography is well done. The issues of the deaf community are portrayed in a light way, but educates nonetheless. Thought-provoking and comedic, ComMUTE is a pleasure to watch, regardless of who you are.

Alessi Emenegger

I'm a 16-year-old who loves animals and am a fan of Hip Hop culture. I enjoy thinking outside the box and coming up with new ideas.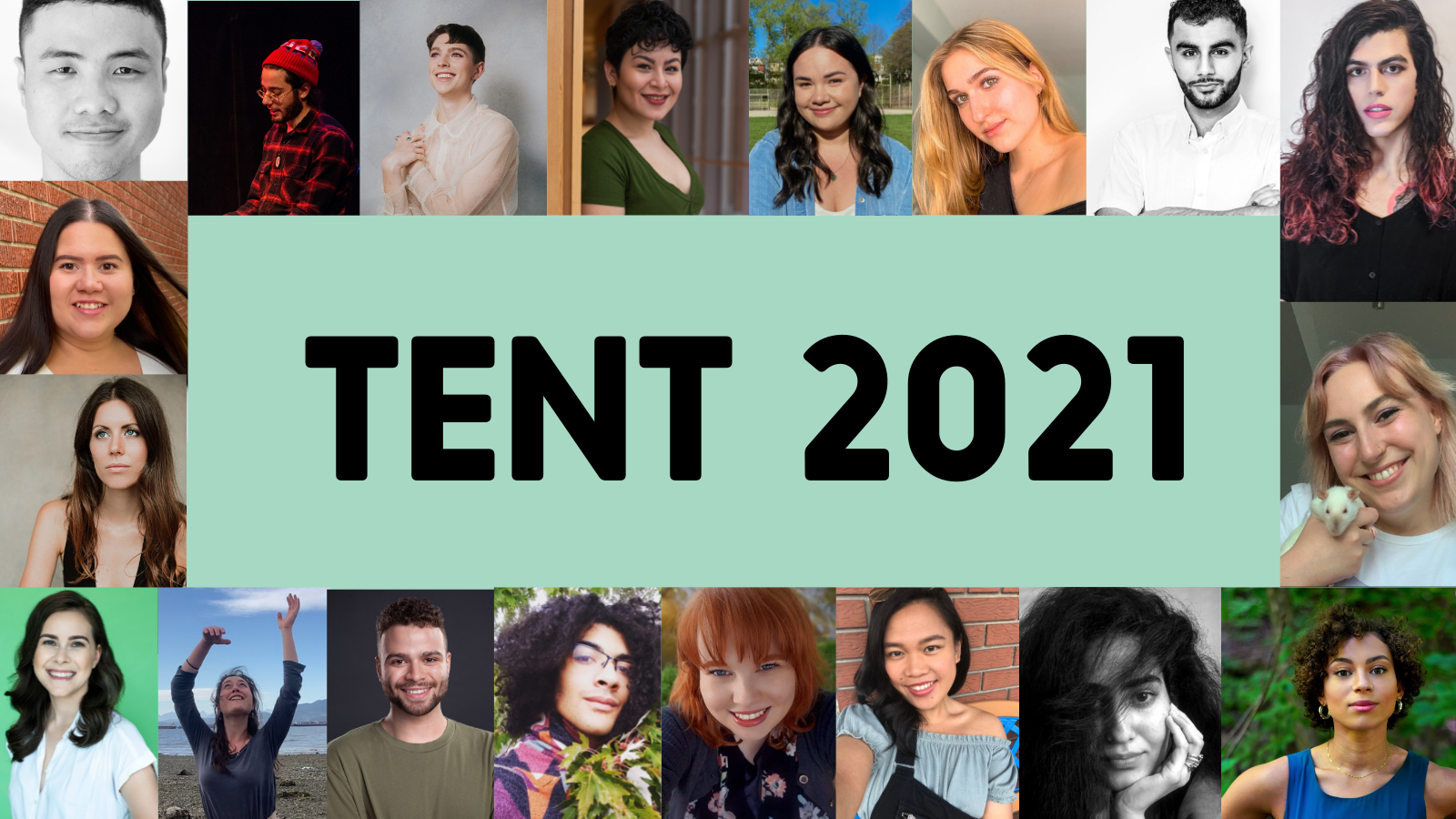 Introducing the 2021 TENT participants!
TENT (Theatre Entrepreneurs' Network and Training) was created in 2014 by Toronto Fringe to address a growing need in theatre training. The theatre climate demands that artists possess the skills and contacts to self-produce if they wish to build a sustainable career, but no training programs existed to address this specific need for emerging artists. 
Since its inception, TENT has served over 140 emerging artists by providing free, intensive training in the skills vital to making their work a reality (such as managing budgets, marketing, fundraising, and grant-writing), and by connecting them with some of Canada's leading "artrepreneurs."
The pandemic has caused many young people to enter the arts industry at its least stable, with many new artists and smaller theatres struggling to make it through the past year. That is why it is important, now more than ever, that we are supporting these future artists in making their dreams obtainable.
Meet our TENT program director
Ali Joy Richardson (She/Her)

"I'm excited for TENT 2021 to be a place where we can remove the cloud of fear from self-producing, recognize how producers can drive change and provide care, and reimagine what a sustainable, fulfilling life in the arts looks like. I'm pretty sure the passion and intelligence of this year's TENT cohort is going to crash Zoom."
Meet our Talented TENT Cohort
Alex C (She/Her)

Alex C is a theatre & digital artist based in the GTA. She made her off-campus stage debut in Toronto Fringe, and is happy to be back as part of TENT! Alex has worked with such collectives as Tarragon Theatre, AMY Project, the Blackwood Gallery, and Crane Creations as a performer, dramaturge, writer, and MC. As a hobbyist, she creates music and video art. To Alex, theatre represents a synthesis of the arts, so interdisciplinary and trans-medial thinking and vision are a huge part of who she is.

Caitlyn MacInnis (They/She)

Caitlyn MacInnis (they/she) is a queer, non-binary, mixed-raced multi-disciplinary artist. Their practices range from, but are not limited to: singer, dancer, actor, choreographer, songwriter, coach and creator. Based in Oakville, Ontario, they are entering their fourth year in Sheridan's Musical Theatre Performance Program. They are passionate about decolonizing the industry and creating space for historically marginalized and racialized artists across Canada. They love to challenge the binary and strive to achieve more equitable, inclusive, and accessible spaces within the Arts and institutions as a whole. They implement these practices within their activism, coaching, and facilitated spaces.

Christine Cortes (She/Her)

Christine is a Toronto based, Filipina-Canadian actress, writer/director, and overall multifaceted artist/creative. Born in the Philippines and growing up in Calgary, AB, Christine graduated from the University of Alberta with a BSc. Chemistry and Biological Sciences. She moved to Toronto in the summer of 2017 to train and relentlessly pursue an acting career. She strives to represent, create works and open opportunities for herself in Film, TV and Theatre. Christine seeks any learning experience and career advancement opportunities she can find to further her work and enhance her skills, meet like-minded creatives and be a part of the artistic community in all aspects of its journey! Christine is truly excited to be a part of TENT 2021!

Elena Reyes (They/Them)

Elena Reyes is a queer Latinx theatre artist/creator, and graduate of the UWindsor BFA Acting program. Recently: Milagrosa Maria (UP: StartUP Theatre Festival, 2021) Thank You For Your Labour (UP w/ Outside The March, 2020), Reloj No Marque Las Horas (Lacuna Theatre w/ Tall Tale Theatre, 2020), The Bacchae (House + Body, 2019). Elena is inspired by the roots of storytelling and the decolonization and healing process that storytelling can offer. Eager to practice and dissect theatre, Elena enjoys playwriting, movement composition, theatre criticism, and performance. Next: Taking on the World: Around the World in 80 Plays (Soulpepper Theatre).

Emily Maxwell (She/Her)

Emily Maxwell (she/her) is a queer and disabled stage manager for theatre and live events. She has worked as a stage manager for several theatre companies, including Canadian Stage, The Theatre Centre, Buddies in Bad Times, and many more. In 2020, Emily founded The Disability Collective, a not-for-profit organization and community of disabled artists dedicated to celebrating and showcasing disability in the arts. TDC allows Emily to combine her love for art with her passion for disability rights. Emily recognizes her privilege as a white settler on Turtle Island, where she lives with her fiancé, Nathan, and their two cats, Merry and Pippin.

Em (Emma/Emunah) Burke-Kleinman (She/They)

Em ia a multidisciplinary artist based in Tkaronto, Treaty 13 and has been diving into creating her own work over the past year. She founded missus productions, a creation incubator for gender diverse artists, through which she directed and produced a workshop of the play A Period Piece. Em participated as a performer and director in Kerrigan and Lowdermilk's creation lab for their musical The Mad Ones in the fall and most recently produced a writer's collective called Re:Vision, where she continued her playwriting/producing journey inspired by stories that remind her how freaking cool it is to be alive.

Jade Silman (She/Her)

Jade is an emerging theatre creator, who foregrounds collaboration, equity, and passion in all her work. Jade recently completed her Theatre BFA from York University, where she specialized in Devised Theatre and Dramaturgy, receiving the Iris Turcott Memorial Award for dramaturgy. During her time at York, she served as the Artistic Director of the student-run festival and co-founded Triptych Theatre Collective, co-creating their first show for the Devised Theatre Festival. Her admin experience lies primarily in producing and programming, having worked for companies including Theatre Gargantua, Crow's Theatre and Arts Commons, and also working as an independent dramaturg and creator.

Kelsi James (She/Her)

Kelsi is a performer, music maker, word rhymer, messy painter and life adventurer. She is a Sheridan MT alum, a two-time Paprika Festival alum, and a certified scuba diver. She currently lives and creates on the unceded territories of the Musqueam, Squamish and Tsleil-Waututh. She most recently performed as "Feryl" in Jill Goranson's Eggs (Yellow by Art Pop Up), and, before that, in the last iteration of Venus and Adonis (REVERB by Theatre Oculus). In this time of new and different happenings, Kelsi is practicing painting on cardboard, making stained glass, and dancing her heart out by the ocean.

Laith Al-Kinani (He/Him)

Laith is an Iraqi theatre and film artist from Windsor, Ontario, living in Toronto. He recently graduated from the Performance Acting program at X University, where he performed in Shakespeare plays such as Midsummer and had a funny but short-lived clown career - Laith's clown act was him balancing a Tim Horton's double-double on his head. So yeah, that tells you enough about him! He's passionate about storytelling, culture, and especially, food.

Maher Sinno (They/He)

Maher has worked and trained with Theatre Passe Muraille, Buddies in Bad Times, & Cahoots. Maher also performed with companies across Canada; namely, Fifi/Zidan in The Green Line (Edmonton Fringe Festival), Ali in Tales of a City By The Sea (Theatre Passe Muraille), & Abe in 76 Centimeters (St John's Short Plays Festival). Most recently, Maher produced their play, Mhajjir/مهاجر, at the Paprika Festival. Maher's work centers decolonization and equity with a focus on unconventional forms of performance & sustainable equity practices in Theatre for marginalized groups such as folks from the SWANA region, racialized individuals, & queer folks.

michael (lilac) derworiz (They/Them)

michael (lilac) derworiz  is a queer, non-binary, settler of Ukrainian and Polish descent. They grew up in Saskatchewan, Treaty 6 Territory, and now reside in Tkaronto. They are actively in the process of unlearning capitalist and supremacist teachings and decolonizing their arts practices. They are a self proclaimed: actor, mover, bad poet, angsty break-up songwriter, collaborative performance curator and playwright. Through these mediums they are focused on creating queer, socially conscious, intersectional work; and collectively dismantling racist, ableist and oppressive institutions in society and the arts. Select credits include: A Midsummer Night's Dream (Theatre Rusticle); blue, RED and Yellow (Art Pop-Up); and Heresy (Paprika Festival).

Natalie Skov (She/Her)

Natalie Skov is a playwright, actor, and queer theatre artist who has a passion for collective creation and devised theatre. Her goal is to create multidisciplinary work that centers the voices of young people in the industry. She is a recent graduate of the UofT and Sheridan College joint Theatre and Drama Studies program where she had the opportunity to play such diverse characters as Mary Queen of Scots and Bilbo Baggins. She is currently working on an untitled play about conspiracy theories and mass hysteria through the decades. In her spare time she loves to crochet, and binge podcasts.

Randi Bowron (They/She)

Randi Bowron is a multi-disciplinary artist who specializes in writing, performing, and producing for the stage and screen. They are a graduate of the University of King's College with a B.A. (Hon) in Theatre and hold a Graduate Certificate in Television Writing and Producing from Humber College. Randi is passionate about exploring themes of gender, sexuality, and mental/physical illness in their performance and written work. They enjoy immersive and site-engaged art that pushes the boundaries of "traditional" theatre. Randi currently lives in Toronto with their partner, three pet rats, and their dog named Birdie.

Reva Lokhande (She/Her)

An arts manager and advocator, artist, actor, and aspiring stage manager and director. She earned her bachelor's in Arts Management from Lasalle College of The Arts in Singapore and most recently her Post-Graduate Diploma in Theatre Production from Humber College. She has experience and knowledge in stage managing, gallery managing, exhibitions, art fairs, and short films. Her passion for theatre, film, art, and nature is what keeps her on her toes and brings her joy. Having worked on plays like Shakespeare's Taming of Shrew, Macbeth, and Romeo and Juliet in Singapore as well as plays produced by Humber College; Andrew Penner's Songs of Class and Dirt, and Richard Lee's Humans. She is excited to be given this opportunity to be a part of the TENT mentorship program and hopes to expand her knowledge and skills in all aspects of art-making and producing.

Rose Goodwin (Fae/They/She)

Rose Goodwin is a writer, producer, creator, artist who works and lives out of Toronto. Fae were most recently a part of the 2021 Tarragon TPU, and the 20th Paprika theatre festival and is ready to make more art.

Tan Vu (He/Him)

Tan had performed in musicals, theatre, and opera with Saigon's leading institutions before moving to New York to train at AMDA under a scholarship. He relocated to Toronto as Canadian Permanent Resident in November 2019, and has since worked as tenor lead in choirs and performed in Toronto Operetta Theatre's "H.M.S Pinafore" before COVID shutdown. Tan was awarded the Toronto Arts Council's Newcomer Artist Mentorship Grant, and Buddies in Bad Times Theatre's Queer Emerging Artist Award. He was one of five artists in the "New Faces" program sponsored by the Stratford Festival, got his first Equity engagement with Talk Is Free Theatre, and is currently part of Cahoots Theatre's "Crossing Gibraltar" creation program. Tan is overjoyed to be joining The Toronto Fringe's TENT program!

Theresa Cutknife (She/Her)

Theresa Cutknife is a Nehiyaw and Puerto Rican actor, writer, curator, storyteller, and emerging creative producer from Maskwacîs, Alberta located on Treaty 6 Territory and is a member of the Samson Cree Nation. Theresa has had the pleasure of working with companies such as Native Earth Performing Arts, Punctuate Theatre, Common Boots Theatre, Buddies in Bad Times Theatre, and Young People's Theatre. She is a graduate from the Centre for Indigenous Theatre and is currently a Creative Producer in Training at the Theatre Centre.

Yago Mesquita (He/Him)

Yago is an emerging queer Brazilian-Canadian playwright and theatre artist from and based in Tkaronto (Toronto), and he's also a double Virgo who absolutely stressed and spent an hour (or longer...) crafting this one-sentence introduction.

Zoë Barrett-Wood (She/Her)

Zoë is an actress, writer, comedian, and biologist. She facilitates arts-based workshops for social change. She's performed in New York, Detroit, across southern Ontario, and made a TikTok about her bladder watched by over 600,000 teenagers. Zoë spent her childhood up trees and in the middle of swamps. Her adulthood looks fairly similar. Zoë wants to make theatre that reminds us of our interconnectedness, and inspires harmonious relationships with ourselves, each other, and the natural world. And probably also some theatre about her bladder.