Future Voices
Welcome to Future Voices: a showcase for youth, a platform for discussion, a peek into the future of our Fringe community. In the months to come, we hope to use this page to highlight exceptional moments in our youth programing, post articles and content from youth themselves, reflections on Fringe's Equity, Diversity, and Inclusion work, and more.
If you have an idea for a post, please contact Outreach Coordinator Isabela Solis-Lozano at outreach@fringetoronto.com to discuss. 
---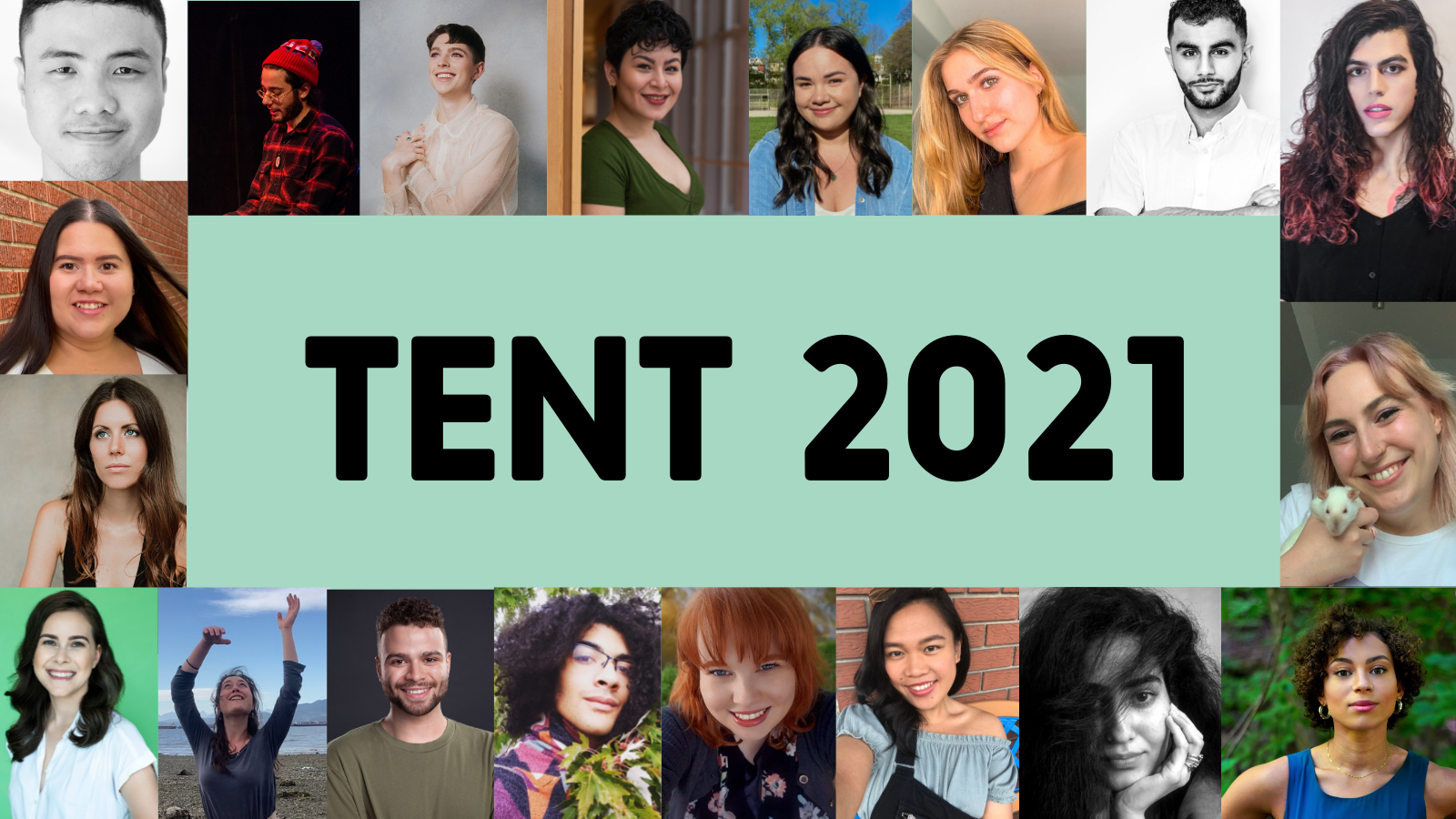 Introducing the 2021 TENT participants!
TENT (Theatre Entrepreneurs' Network and Training) was created in 2014 by Toronto Fringe to address a growing need in theatre training. The theatre climate demands that artists possess the skills and contacts to self-produce if they wish to build a sustainable career, but no training programs existed to address this specific need for emerging artists. 
Since its inception, TENT has served over 140 emerging artists by providing free, intensive training in the skills vital to making their work a reality (such as managing budgets, marketing, fundraising, and grant-writing), and by connecting them with some of Canada's leading "artrepreneurs."
The pandemic has caused many young people to enter the arts industry at its least stable, with many new artists and smaller theatres struggling to make it through the past year. That is why it is important, now more than ever, that we are supporting these future artists in making their dreams obtainable.
Meet our TENT program director
Ali Joy Richardson (She/Her)

"I'm excited for TENT 2021 to be a place where we can remove the cloud of fear from self-producing, recognize how producers can drive change and provide care, and reimagine what a sustainable, fulfilling life in the arts looks like. I'm pretty sure the passion and intelligence of this year's TENT cohort is going to crash Zoom."
Meet our Talented TENT Cohort
Alex C (She/Her)

Alex C is a theatre & digital artist based in the GTA. She made her off-campus stage debut in Toronto Fringe, and is happy to be back as part of TENT! Alex has worked with such collectives as Tarragon Theatre, AMY Project, the Blackwood Gallery, and Crane Creations as a performer, dramaturge, writer, and MC. As a hobbyist, she creates music and video art. To Alex, theatre represents a synthesis of the arts, so interdisciplinary and trans-medial thinking and vision are a huge part of who she is.

Caitlyn MacInnis (They/She)

Caitlyn MacInnis (they/she) is a queer, non-binary, mixed-raced multi-disciplinary artist. Their practices range from, but are not limited to: singer, dancer, actor, choreographer, songwriter, coach and creator. Based in Oakville, Ontario, they are entering their fourth year in Sheridan's Musical Theatre Performance Program. They are passionate about decolonizing the industry and creating space for historically marginalized and racialized artists across Canada. They love to challenge the binary and strive to achieve more equitable, inclusive, and accessible spaces within the Arts and institutions as a whole. They implement these practices within their activism, coaching, and facilitated spaces.

Christine Cortes (She/Her)

Christine is a Toronto based, Filipina-Canadian actress, writer/director, and overall multifaceted artist/creative. Born in the Philippines and growing up in Calgary, AB, Christine graduated from the University of Alberta with a BSc. Chemistry and Biological Sciences. She moved to Toronto in the summer of 2017 to train and relentlessly pursue an acting career. She strives to represent, create works and open opportunities for herself in Film, TV and Theatre. Christine seeks any learning experience and career advancement opportunities she can find to further her work and enhance her skills, meet like-minded creatives and be a part of the artistic community in all aspects of its journey! Christine is truly excited to be a part of TENT 2021!

Elena Reyes (They/Them)

Elena Reyes is a queer Latinx theatre artist/creator, and graduate of the UWindsor BFA Acting program. Recently: Milagrosa Maria (UP: StartUP Theatre Festival, 2021) Thank You For Your Labour (UP w/ Outside The March, 2020), Reloj No Marque Las Horas (Lacuna Theatre w/ Tall Tale Theatre, 2020), The Bacchae (House + Body, 2019). Elena is inspired by the roots of storytelling and the decolonization and healing process that storytelling can offer. Eager to practice and dissect theatre, Elena enjoys playwriting, movement composition, theatre criticism, and performance. Next: Taking on the World: Around the World in 80 Plays (Soulpepper Theatre).

Emily Maxwell (She/Her)

Emily Maxwell (she/her) is a queer and disabled stage manager for theatre and live events. She has worked as a stage manager for several theatre companies, including Canadian Stage, The Theatre Centre, Buddies in Bad Times, and many more. In 2020, Emily founded The Disability Collective, a not-for-profit organization and community of disabled artists dedicated to celebrating and showcasing disability in the arts. TDC allows Emily to combine her love for art with her passion for disability rights. Emily recognizes her privilege as a white settler on Turtle Island, where she lives with her fiancé, Nathan, and their two cats, Merry and Pippin.

Em (Emma/Emunah) Burke-Kleinman (She/They)

Em ia a multidisciplinary artist based in Tkaronto, Treaty 13 and has been diving into creating her own work over the past year. She founded missus productions, a creation incubator for gender diverse artists, through which she directed and produced a workshop of the play A Period Piece. Em participated as a performer and director in Kerrigan and Lowdermilk's creation lab for their musical The Mad Ones in the fall and most recently produced a writer's collective called Re:Vision, where she continued her playwriting/producing journey inspired by stories that remind her how freaking cool it is to be alive.

Jade Silman (She/Her)

Jade is an emerging theatre creator, who foregrounds collaboration, equity, and passion in all her work. Jade recently completed her Theatre BFA from York University, where she specialized in Devised Theatre and Dramaturgy, receiving the Iris Turcott Memorial Award for dramaturgy. During her time at York, she served as the Artistic Director of the student-run festival and co-founded Triptych Theatre Collective, co-creating their first show for the Devised Theatre Festival. Her admin experience lies primarily in producing and programming, having worked for companies including Theatre Gargantua, Crow's Theatre and Arts Commons, and also working as an independent dramaturg and creator.

Kelsi James (She/Her)

Kelsi is a performer, music maker, word rhymer, messy painter and life adventurer. She is a Sheridan MT alum, a two-time Paprika Festival alum, and a certified scuba diver. She currently lives and creates on the unceded territories of the Musqueam, Squamish and Tsleil-Waututh. She most recently performed as "Feryl" in Jill Goranson's Eggs (Yellow by Art Pop Up), and, before that, in the last iteration of Venus and Adonis (REVERB by Theatre Oculus). In this time of new and different happenings, Kelsi is practicing painting on cardboard, making stained glass, and dancing her heart out by the ocean.

Laith Al-Kinani (He/Him)

Laith is an Iraqi theatre and film artist from Windsor, Ontario, living in Toronto. He recently graduated from the Performance Acting program at X University, where he performed in Shakespeare plays such as Midsummer and had a funny but short-lived clown career - Laith's clown act was him balancing a Tim Horton's double-double on his head. So yeah, that tells you enough about him! He's passionate about storytelling, culture, and especially, food.

Maher Sinno (They/He)

Maher has worked and trained with Theatre Passe Muraille, Buddies in Bad Times, & Cahoots. Maher also performed with companies across Canada; namely, Fifi/Zidan in The Green Line (Edmonton Fringe Festival), Ali in Tales of a City By The Sea (Theatre Passe Muraille), & Abe in 76 Centimeters (St John's Short Plays Festival). Most recently, Maher produced their play, Mhajjir/مهاجر, at the Paprika Festival. Maher's work centers decolonization and equity with a focus on unconventional forms of performance & sustainable equity practices in Theatre for marginalized groups such as folks from the SWANA region, racialized individuals, & queer folks.

michael (lilac) derworiz (They/Them)

michael (lilac) derworiz  is a queer, non-binary, settler of Ukrainian and Polish descent. They grew up in Saskatchewan, Treaty 6 Territory, and now reside in Tkaronto. They are actively in the process of unlearning capitalist and supremacist teachings and decolonizing their arts practices. They are a self proclaimed: actor, mover, bad poet, angsty break-up songwriter, collaborative performance curator and playwright. Through these mediums they are focused on creating queer, socially conscious, intersectional work; and collectively dismantling racist, ableist and oppressive institutions in society and the arts. Select credits include: A Midsummer Night's Dream (Theatre Rusticle); blue, RED and Yellow (Art Pop-Up); and Heresy (Paprika Festival).

Natalie Skov (She/Her)

Natalie Skov is a playwright, actor, and queer theatre artist who has a passion for collective creation and devised theatre. Her goal is to create multidisciplinary work that centers the voices of young people in the industry. She is a recent graduate of the UofT and Sheridan College joint Theatre and Drama Studies program where she had the opportunity to play such diverse characters as Mary Queen of Scots and Bilbo Baggins. She is currently working on an untitled play about conspiracy theories and mass hysteria through the decades. In her spare time she loves to crochet, and binge podcasts.

Randi Bowron (They/She)

Randi Bowron is a multi-disciplinary artist who specializes in writing, performing, and producing for the stage and screen. They are a graduate of the University of King's College with a B.A. (Hon) in Theatre and hold a Graduate Certificate in Television Writing and Producing from Humber College. Randi is passionate about exploring themes of gender, sexuality, and mental/physical illness in their performance and written work. They enjoy immersive and site-engaged art that pushes the boundaries of "traditional" theatre. Randi currently lives in Toronto with their partner, three pet rats, and their dog named Birdie.

Reva Lokhande (She/Her)

An arts manager and advocator, artist, actor, and aspiring stage manager and director. She earned her bachelor's in Arts Management from Lasalle College of The Arts in Singapore and most recently her Post-Graduate Diploma in Theatre Production from Humber College. She has experience and knowledge in stage managing, gallery managing, exhibitions, art fairs, and short films. Her passion for theatre, film, art, and nature is what keeps her on her toes and brings her joy. Having worked on plays like Shakespeare's Taming of Shrew, Macbeth, and Romeo and Juliet in Singapore as well as plays produced by Humber College; Andrew Penner's Songs of Class and Dirt, and Richard Lee's Humans. She is excited to be given this opportunity to be a part of the TENT mentorship program and hopes to expand her knowledge and skills in all aspects of art-making and producing.

Rose Goodwin (Fae/They/She)

Rose Goodwin is a writer, producer, creator, artist who works and lives out of Toronto. Fae were most recently a part of the 2021 Tarragon TPU, and the 20th Paprika theatre festival and is ready to make more art.

Tan Vu (He/Him)

Tan had performed in musicals, theatre, and opera with Saigon's leading institutions before moving to New York to train at AMDA under a scholarship. He relocated to Toronto as Canadian Permanent Resident in November 2019, and has since worked as tenor lead in choirs and performed in Toronto Operetta Theatre's "H.M.S Pinafore" before COVID shutdown. Tan was awarded the Toronto Arts Council's Newcomer Artist Mentorship Grant, and Buddies in Bad Times Theatre's Queer Emerging Artist Award. He was one of five artists in the "New Faces" program sponsored by the Stratford Festival, got his first Equity engagement with Talk Is Free Theatre, and is currently part of Cahoots Theatre's "Crossing Gibraltar" creation program. Tan is overjoyed to be joining The Toronto Fringe's TENT program!

Theresa Cutknife (She/Her)

Theresa Cutknife is a Nehiyaw and Puerto Rican actor, writer, curator, storyteller, and emerging creative producer from Maskwacîs, Alberta located on Treaty 6 Territory and is a member of the Samson Cree Nation. Theresa has had the pleasure of working with companies such as Native Earth Performing Arts, Punctuate Theatre, Common Boots Theatre, Buddies in Bad Times Theatre, and Young People's Theatre. She is a graduate from the Centre for Indigenous Theatre and is currently a Creative Producer in Training at the Theatre Centre.

Yago Mesquita (He/Him)

Yago is an emerging queer Brazilian-Canadian playwright and theatre artist from and based in Tkaronto (Toronto), and he's also a double Virgo who absolutely stressed and spent an hour (or longer...) crafting this one-sentence introduction.

Zoë Barrett-Wood (She/Her)

Zoë is an actress, writer, comedian, and biologist. She facilitates arts-based workshops for social change. She's performed in New York, Detroit, across southern Ontario, and made a TikTok about her bladder watched by over 600,000 teenagers. Zoë spent her childhood up trees and in the middle of swamps. Her adulthood looks fairly similar. Zoë wants to make theatre that reminds us of our interconnectedness, and inspires harmonious relationships with ourselves, each other, and the natural world. And probably also some theatre about her bladder.